OTHER LANGUAGES:
German
For all friends of Austrian cuisine, the Styrian Pumkin Cream Soup recipe with pumpkin seed oil, dill and bacon is a classic. 
Styria is a wonderful province in Austria and has a lot to offer in terms of culinary delights and scenery.
You prepare this pumpkin soup with whipped cream, coconut milk has no place here. The only runaway I take the liberty of is ginger, which many of my Styrian friends have recently added to their soup. You find ginger in the list of ingredients optional.
What is so special about this traditional pumpkin soup? Creamy appearance, crispy black bread cubes, dill, crispy bacon and freshly torn horseradish make this soup a top highlight of Austrian cuisine. Please try it out quickly and enjoy!
1. Prepare your own Styrian Pumpkin Soup
Here I describe the simplest way of making soups step by step:
Use a Hokkaido Pumpkin, Muscat Pumpkin or Butternut Pumpkin for this recipe.
Halve the pumpkin with a knife, scrape out the seeds with a spoon and remove.
Remove the pumpkin bowl with a knife, with the Hokkaido pumpkin you can use the bowl and save yourself the peeling.
Cut pumpkin with skin or peeled pumpkin into small pieces and place in a high pot.
Peel an onion and a clove of garlic, cut both into small pieces and place them in the pot with the pumpkin.
Add some ginger (optional).
Cover the ingredients in the pot with water, add the vegetable stock (powder or cube), season with salt, pepper and nutmeg.
Add a little dry white wine, bring to the boil and let simmer for 25 minutes.
Bring the soup to the boil again, pour the whipped cream into the boiling soup and it will not flocculate.
Pass the pumpkin soup through a fine sieve to taste or prepare it for serving as prepared.
Prepare the soup topping: Roast the black bread cubes in butter and season with salt and pepper, skip the bacon cubes, prepare the dill, prepare the horseradish finely torn.
Mix pumpkin seed oil with a hand blender, season with salt, pepper, cayenne pepper and some ornamental juice.
Finally mix the pumpkin soup with cold butter and froth up, arrange, add the soup and serve quickly.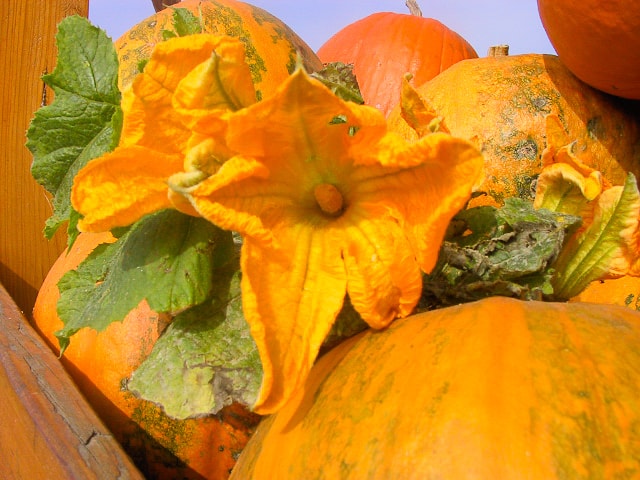 Guests come to visit for Thanksgiving? Cook this soup for them, they will be thrilled!
2. Cooking Video Pumpkin Cream Soup
My cooking video for pumpkin soup shows the preparation step by step. All pumpkin soups differ only slightly in their preparation. The video is certainly a help for you to cook yourself.
3. Recipe
Put a great soup on your plate and enjoy a starry kitchen at home. Recipe pumpkin soup with pumpkin seed oil in Styrian style with crispy bread cubes, dill, bacon and horseradish. Below is my recipe with exact quantities, enjoy this great soup!
OTHER LANGUAGES:
German