Bread turkey escalope perfectly, that's the point of this article with my recipe Turkey Escalope breaded with step by step instructions.
I'll give you lots of tips and show you variations on the crispy and deliciously breaded turkey escalope.
The cooking video "Breading Turkey Escalope" is an additional support when cooking yourself.
Good luck!
1. Bread Turkey Schnitzel properly
For the breaded turkey schnitzel there are different variants which I briefly introduce
1.1 Turkey Escalopes breaded with Breadcrumbs
After beating, the classic breaded escalope is seasoned with salt and pepper, turned in flour, pulled through whisked eggs and finally turned in breadcrumbs. The finer the breadcrumbs, the better the breadcrumbs. The breaded turkey escalope should float in the hot fat so that the breadcrumbs can bake excellently. The preparation is the same as for the Wiener Schnitzel.
1.1.1 Bread and fry Turkey Escalopes Step by Step
Breaded turkey schnitzel: Preparation like Wiener Schnitzel, beaten and seasoned meat is first turned into flour.
The turkey escalope turned in flour is pulled through the beaten egg. The egg can only stick to the escalope because of the flour.
After the egg come the breadcrumbs, which are gently pressed down. Now the turkey schnitzel can make a "free float" and be baked out in the hot fat.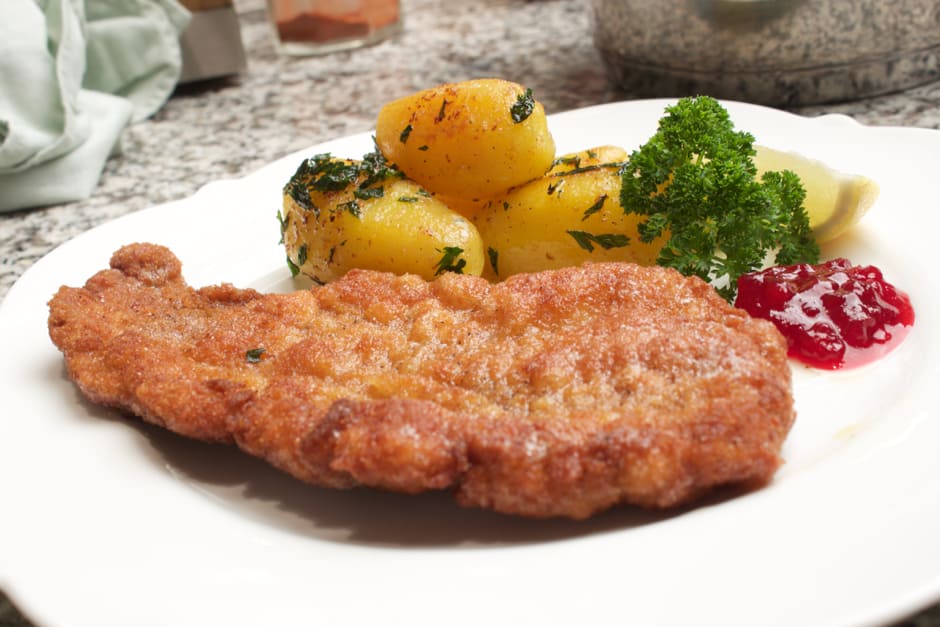 Turkey escalope classic breaded served with parsley potatoes and cranberries.
1.2 Which Side Dishes go well with breaded Turkey Schnitzel?
Parsley potatoes, butter potatoes, French fries and rice are particularly popular as side dishes. Naturally also potato salad in different variants or mixed salads.
2. Bread Turkey Escalope without Breadcrumbs
The turkey schnitzel does not always have to be prepared with breadcrumbs, there are other variations waiting for you here!
Turkey schnitzel with cornflakes, Turkey schnitzel with sesame seeds, Parisian turkey schnitzel prepared as finger food here.
2.1 Turkey Schnitzel breaded with Cornflakes
Another very tasty variation is breading with cornflakes. The turkey escalope is beaten, seasoned, turned in flour, then pulled through the beaten egg and finally breaded in cornflakes. The turkey schnitzel with cornflakes promises a very interesting and crispy taste experience and is popular at children's parties.
2.2 Turkey Schnitzel breaded with Sesame Seeds
Sesame seeds on turkey schnitzel taste excellent, we know sesame seeds from Asian cuisine. The sesame seed adheres best to the schnitzel if it has also been pulled through the flour and egg beforehand. How it works without an egg is explained in the article below.
2.3 Turkey Schnitzel as Parisian Schnitzel
With the Paris Schnitzel, there is no breading in any form. The schnitzel is only pulled through the egg and then baked out directly.
2.4 Turkey Escalope breaded with Muesli
As an experimental cook I breaded turkey schnitzel in muesli and baked it out. You can find the recipe at the end of this page.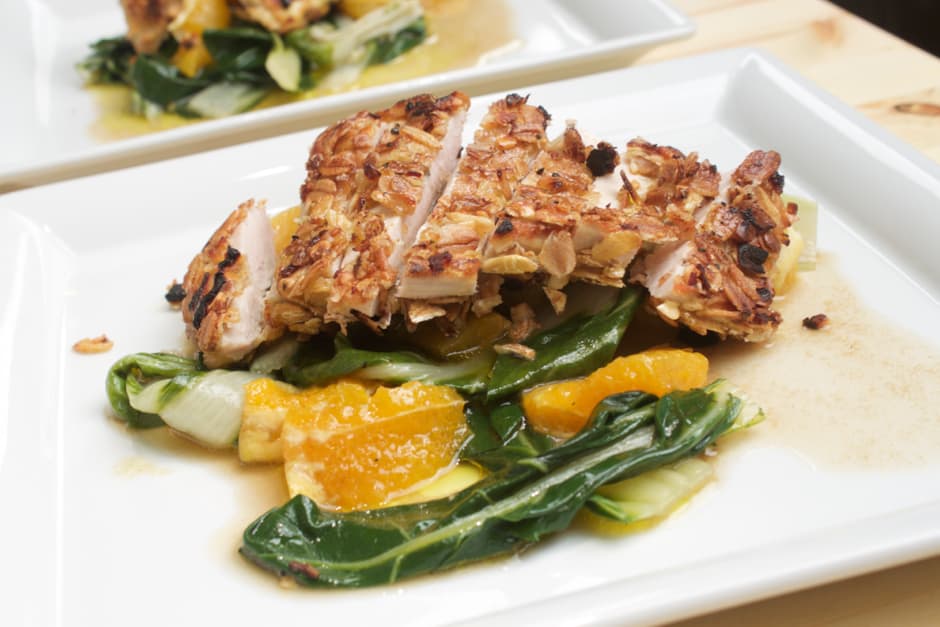 3. Turkey Escalope breaded from the Oven
You can't prepare a breaded escalope in the oven, it must definitely be put in the fat beforehand. However, you can keep breaded escalopes warm in the oven at 130°C for about 30 minutes without any loss of quality.
4. How long to fry Turkey Schnitzel breaded?
A breaded schnitzel is fried in hot fat for about 3-4 minutes on each side. Use heat-resistant fats such as sunflower oil or maize germ oil.
5. Bread turkey Escalope without Egg
Bread the turkey escalope without the egg with starch water. Mix 100 ml cold water with approx. one tablespoon of starch and place the escalopes in the starch water for a few minutes. Then directly into the respective breading – muesli, sesame, cornflakes or breadcrumbs.
6. Cooking Video Turkey Schnitzel breaded

7. Recipe Turkey Schnitzel breaded
You can find my recipe for breaded turkey schnitzel below, you can easily change it or make appropriate derivations.