Here I present you my recipe Gnocchi with Gorgonzola. A popular dish combined with spinach for practical quick cooking.
Blue cheese originally comes from the small town of Gorgonzola in Lombardy in northern Italy. I like this piquant cheese for cooking or something. I like the creamy, mild varieties known as "dolce" just as much as the slightly hotter, longer-ripened "piccante" varieties.
You can combine this soft cheese with blue mould wonderfully with pasta or gnocchi. The fine spinach on top captures the intensive spice and sharpness of the cheese and rounds off the dish perfectly.
Have fun with the preparation and good luck!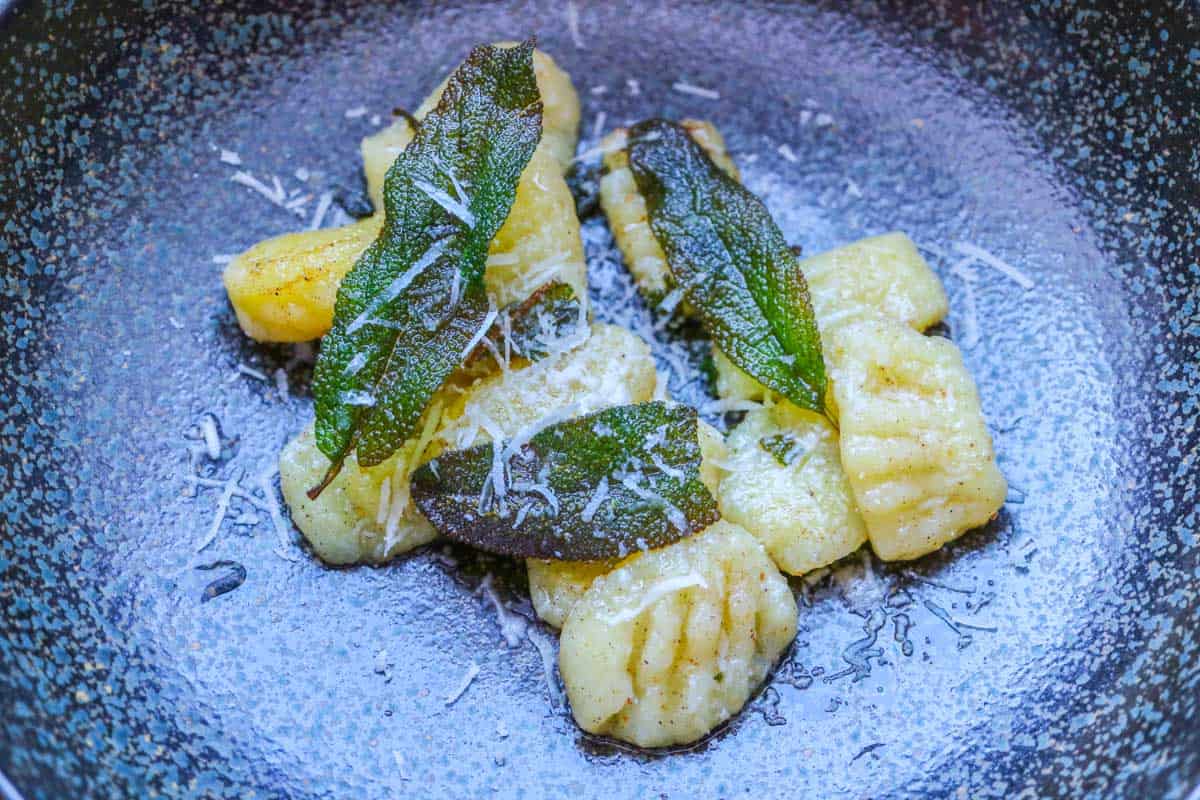 1. Prepare Gorgonzola sauce
Get yourself a creamy soft and mild gorgonzola. The soft gorgonzola you need for your sauce only roughly crush. You can use the whole piece. Since this Gorgonzola is very mild, nothing can go wrong with the amount.
You can crumble a hot, ripe, spicy gorgonzola. You should only use 2/3 of the indicated amount. How much do you need: You can feel it as you taste the sauce.
Prepare the sauce with the blue cheese and spinach first. The sauce is waiting for the gnocchi!

Recommends chef Thomas Sixt
2. Cook gnocchi
I have already published the step by step instructions elsewhere: Have a look at Making Gnocchi yourself. Try it out, it's easy and fast!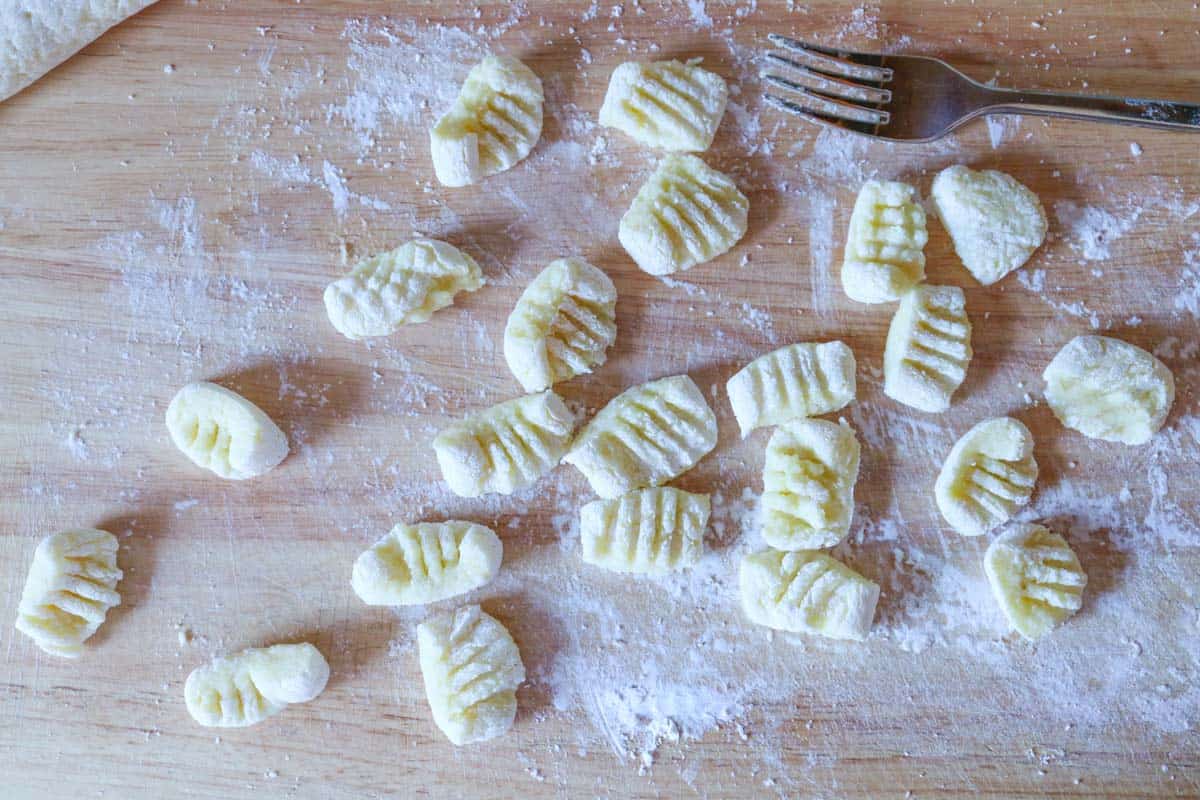 Gnocchi in a fast way: Buy fresh gnocchi from the supermarket's refrigerated shelf and prepare them according to instructions.

Chef Thomas Sixt recommends it to you if you need it quickly!
3. Prepare spinach
Spinach is a plant similar to salad. That's why I recommend that you prepare it like a salad: wash, dry and clean. For drying you can use a salad spinner.
Right washing of salad I will show you in another post

Look into my cooking school – says Thomas Sixt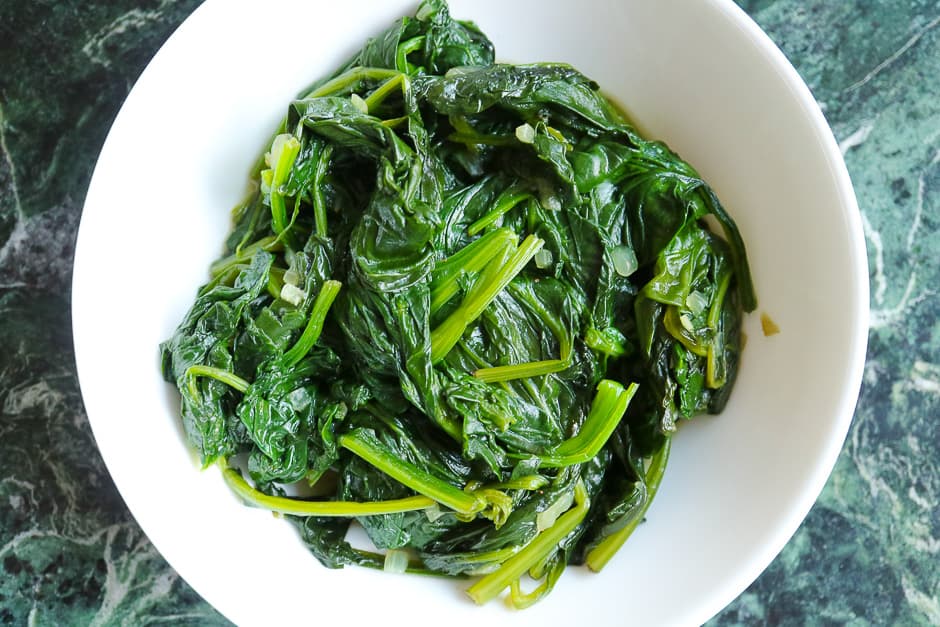 4. Recipe Gnocchi Gorgonzola
Print Recipe
Gnocchi Gorgonzola
Gnocchi gorgonzola with spinach and walnut. Cooked, photographed and written down by chef Thomas Sixt.
Ingredients
Gnocchi basics
500

g

floury potatoes

e.g. Ackersegen or Bintje

150

g

flour

This is also available gluten-free.

1

pc

egg

3

pinches

salt

3

pinches

nutmeg
Gorgonzola sauce
150

g

gorgonzola

I use a creamy mild blue cheese

200

g

fresh young spinach

60

ml

white wine

150-200

ml

cream

1

pinch

ground nutmeg

I always grate the nutmeg fresh

1

pinch

salt

2

pinches

pepper

4

pinches

cayenne pepper
Serve
50

g

walt nuts

peeled and roughly chopped
Instructions
Gorgonzola sauce
You only need to coarsely chop the soft, mild gorgonzola for your sauce. You can use the whole piece.

You can crumble a spicy mature gorgonzola. You should only use 2/3 of the indicated amount.

Wash the spinach well, spin dry like a salad. Remove any stalks that are too long or wilted leaves. Set aside.

Put white wine and cream in a pot and bring to the boil. Reduce the sauce by 1/3.

Add the cleaned spinach to the simmering sauce and remove from the heat.

Add the pieces of gorgonzola to the sauce and dissolve. Season to taste with salt, pepper and grated nutmeg.
Gnocchi
Cook the gnocchi in plenty of salted water in a large pot for 2-3 minutes. When the gnocchi float on the surface of the water, they are cooked.
Dressing and serving
Take the cooked gnocchi out of the water with a skimmer and place them in the sauce. Then swing the pan through and finally season the dish with salt, pepper, nutmeg and cayenne pepper.

Coarsely chop the walnuts with a large sharp knife.

Warm up the plate. Place gnocchi with sauce on the plate. Sprinkle with chopped walnuts. Bon appetit!
5. Calories and nutritional values
Nutrition Facts
Gnocchi Gorgonzola
Amount Per Serving
Calories 538
Calories from Fat 279
% Daily Value*
Fat 31g48%
Cholesterol 38mg13%
Sodium 1124mg49%
Potassium 1185mg34%
Carbohydrates 44g15%
Protein 19g38%
* Percent Daily Values are based on a 2000 calorie diet.
6. Further, suitable cooking ideas