The recipe Potato Soup is close to my heart. In this article I present more than 10 different variations of potato soup, each one will have its own taste, I promise. Here you will get an optimal overview of how to cook your own potato soup.
I love this soup foamed up, light and airy in taste, as truffled potato foam soup or as hearty potato soup with sausages. In the article you will get lots of information and tips, ideas for different types of potato soup and possible deposits.
A cooking video to the potato soup accompanies you while cooking yourself. Please share this article with your friends on Facebook and write me your experiences. Good luck!
1. Prepare your own Potato Soup
I found my love for potato soup with star chef Heinz Winkler in Aschau. I will never forget this day because the soup was served with fresh white truffles. The basket with the white truffles was in the kitchen in the morning and I could smell the truffles, which I didn't know at that time, one floor below the staff entrance in the underground car park. This soup was a formative experience for me and I would like to pass on my recipe.
2. Potato Soup Basic Recipe in Two Variants
You can prepare a potato soup with fresh potatoes or with mashed potatoes. Mashed potatoes? YES! either you use homemade mashed potatoes, freshly prepared or from the day before, or in an emergency you use mashed potato flakes. In the recipe below you will find the corresponding information on the ingredients.
3. Potato Soup Ideas and Overview, 10+ Variations for Your Kitchen
| Potato soup with ... | Type of potato soup | Description of potato soup |
| --- | --- | --- |
| Potato soup with bacon | with meat, not vegetarian | Arrange crispy fried, warm bacon cubes with the soup. |
| Potato soup with sage | vegetarian or vegan | Fry the sage leaves in hot oil, season with salt and place on the potato soup. |
| Potato soup with herbs | vegetarian or vegan | Parsley or marjoram or oregano or hyssop or chervil, also mixed herbs deep-frozen. |
| Potato soup with sausage | with meat, not vegetarian | Heat the Wienerle, Frankfurter or Debrecziner cut into thin slices (do not boil) and add to the soup. |
| Potato soup with fish | without meat, not vegetarian | Pike-perch fillet, perch fillet with skin crispy fried. Also salmon cubes briefly warmed in the soup as an addition. |
| Potato soup with chicken and walnut pesto | with meat, not vegetarian | Serve fried chicken breast strips and a simple pesto of grated walnuts and pumpkin seed oil with the soup. |
| Potato soup with truffle oil | vegetarian or vegan | Arrange the soup with blanched leek and homemade potato crisps. Mix the white truffle oil into the soup beforehand. |
| Potato soup with mushrooms | vegetarian or vegan | Add fried mushrooms, chanterelles or porcini mushrooms to the soup. Add parsley or chervil. |
| Potato soup with meatballs | with meat, not vegetarian | Prepare mini meatballs, glaze in veal jus and serve in soup. |
4. Potato Soup Gallery with Ideas for your next Soup
5. Potato Soup Preparation Video Step by Step
In the cooking video I show you the preparation of a variant of potato soup, please try it out yourself!

6. Recipe Potato Soup
You can change and supplement my basic recipe for potato soup according to the description and table above. I wish you good luck!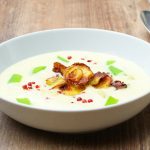 Print Recipe
Potato Soup
Recipe for potato soup, basic recipe with many variants simply explained. Step by step instructions for potato soup by the chef with video and recipe by Thomas Sixt.
Ingredients
1

pc

onion

or shallots

1

tbs

oliv oil

2

tbs

Butter

1/2

pc

clove of garlic

200

g

potato

or 3-5 tbs mashed potatoes-flakes

30

ml

white wine

dry

350

ml

chicken broth

or vegetable broth

1

some

lemon zest

from a bio lemon

1

pinch

nutmeg

150

ml

whipped cream

or soy cream

1

pinch

salt

1

pinch

pepper

1

pinch

Cayenne pepper
Instructions
Peel the onion and cut into strips or cubes. Brown the onion with a little olive oil and butter until translucent.

Add the peeled and chopped potatoes, deglaze with white wine, add chicken stock or vegetable stock, simmer gently.

Add a little finely grated lemon zest, season potato soup with nutmeg, pepper and cayenne pepper.

Prepare the soup, see the detailed ideas in the blog post.

Mix the boiling potato soup with cream, the soup becomes frothy when a little cold butter is mixed in. Arrange the soup and serve.

Note on the mashed potato variant: Leave the fresh potatoes out, bring the stock to the boil, add a spoonful of mashed potato flakes next to the stove and stir in.
Notes
7. Calories (kcal) Potato Soup
Nutrition Facts
Potato Soup
Amount Per Serving
Calories 339
Calories from Fat 198
% Daily Value*
Fat 22g34%
Cholesterol 50mg17%
Sodium 857mg37%
Potassium 566mg16%
Carbohydrates 29g10%
Protein 5g10%
* Percent Daily Values are based on a 2000 calorie diet.
8. More Soups Recipes Ideas
All Soup Recipes