Today I'll show you my  Gazpacho recipe. The cold soup from raw vegetables comes from the southern Spanish and Portuguese cuisine.
As spellings Gazpacho and Gaspacho are common, the soup is known under the name gazpacho andaluz. This soup is a great starter in summer and especially suitable for the guest kitchen, because vegetarians and meat eaters enjoy it equally.  
Make your favorite people happy and mix them this delicious soup. It takes less than 20 minutes. Then follow beautiful culinary moments. Good luck!
1. Preparation Delicious Gazpacho
For the cold vegetable soup from Spain you need tomatoes, cucumbers, peppers, olive oil, white wine vinegar, some white bread, salt, pepper, cayenne pepper and a little sugar.
The simplest variant of the soup: Crush all ingredients in a blender, arrange and serve. Here are some ideas for your party with gazpacho:
Blanch and peel some tomatoes, then fillet the tomatoes and cut the flesh into cubes.
You can find detailed instructions on how to prepare tomato cubes  in the linked article.
Cut one red and one yellow pepper each into fine cubes and place in olive oil as a soup insert.
Cut half of the cucumber (only the flesh of the fruit without seeds) into cubes and also serve as a soup insert.
Roast a part of the white bread either in slices or cut into cubes until crispy, then grate over the bread slices with a halved clove of garlic and drizzle with olive oil. This is Italian, but it tastes good. Serve the bread with the soup.
Now crush all the vegetable ingredients + some bread in a blender until it is the strongest, pass through a fine sieve or leave with the vegetable pieces, season to taste (salt, pepper, cayenne pepper, sugar, vinegar) and serve.
Add the prepared vegetables as decoration to the cold soup and serve.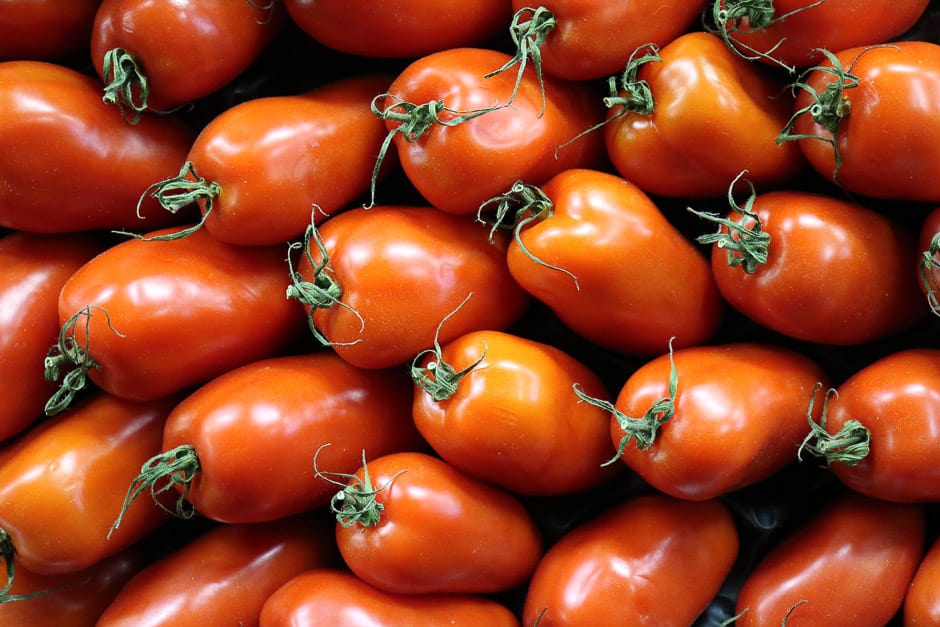 Sun-ripened tomatoes are just right for gazpacho!
2. Gazpacho Andaluz
In Spain I was told that almost every family has its own recipe for cold soup. The soup is certainly the result of the idea to process vegetable waste quickly and effectively. You can refine the soup at any time with various other ingredients: kefir, buttermilk, yoghurt, cream or soy cream make the soup creamier and make it appear less watery.
The most important thing: please serve Gazpacho really cold and in cold plates!
Instead of vinegar, lemon juice also tastes good. With Tabasco, soy sauce or Worcestershiresauce you bring a special taste touch to the soup. If you are experimenting, please be careful, for example you can skim off a cup of your soup and try one or the other ingredient in it.
3. Recipe Gazpacho
You can find my recipe for gazpacho below. I am happy if you prepare this soup yourself and let it taste good!