OTHER LANGUAGES:
German
 Recipes from Thomas Sixt
Discover your favourite recipe here!
ThomasSixt.de/en/ is the cook professional Foodblog!
Hello, I am Thomas Sixt, German chef and the voice and food photographer of this website. You can send me cooking questions directly by using the comment function on the recipe. Have fun and good luck!
Strawberry Bliss
Strawberries are a dream, aren't they? I have some good ideas for your kitchen:
Salads with strawberries and asparagus – WOW, simple and tasty; strawberry risotto with caramelized strawberries – please try without words;
Strawberries Strudel , so …enough now, all super delicious, just click on the link and convince yourself!
Barbecue Recipes…
Grill and chill… Prepare everything well and then grill comfortably! You will find many ideas on the following page. Yes, there are lots of professional cooking tips and ideas for YOUR perfect barbecue.
Grill like a world champion, click on the next link, it's fun!
German Food
Discover here German recipes and traditional main courses from Germany.
Prepare German Roulades, Original German Sauerbraten, Meat Loaf with egg filling and the famous Koenigsberger Klopse with caper sauce deliciously.
Top Cooking Videos from Thomas Sixt
The most watched cooking videos from my Youtube channel. Have fun trying and enjoying!
Bavarian Roast Pork with more than 200,000 Views
Original Bavarian roast pork, this is how grandpa Loibl prepared the delicious pork roast with crispy "Krusperl".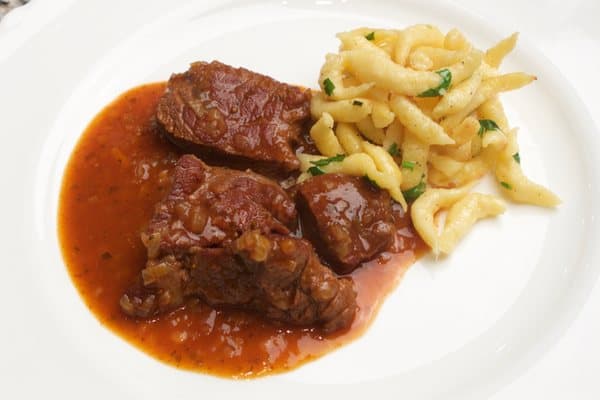 Recipes by categories
Discover great recipe with picture and chef's guide!
Welcome to the Website thomassixt.de
This is the website of Thomas Sixt, cook, nutrition trainer and author. This page is about healthy and attentive eating, diet and weight loss, about culinary enjoyment and self cooking.
Diet and Weight Loss
Diet and slimming are topics of our time. Almost a quarter of Germans, for example, are overweight. Many people also suffer from food intolerances, i.e. allergies, gluten intolerances and intestinal problems. The service FOOD ENERGETICS as well as books like the ICON DIET show you possibilities to eat healthy and mindful.
FOOD ENERGETICS is about identifying individually strengthening and weakening foods.
The ICON DIET shows the possibility of reprogramming the subconscious nutritional behaviour of fast food and co., inherited from family or acquired through advertising, into a high-quality diet.
This is not about a low-carb diet or just eating fruit, but about a way to a balanced and healthy individual diet through visual re-imprinting. In addition some of my self-developed recipes also provide suggestions for self cooking. Thomas Sixt works together with renowned physicians.
In addition, seminars on diet and nutrition management are offered via this website. Doctors, alternative practitioners and energeticians are welcome to request further information about FOOD ENERGETICS and ICON DIÄT by e-mail.
Recipe and Cooking with Thomas Sixt
On this website, as in a cookery blog, numerous recipes and cooking instructions are offered free of charge for information purposes. The recipes are prepared with pictures I made myself as food photographer Thomas Sixt, at the same time there are many recipes with self-made cooking videos.
Cooking Videos Headcam Cooking
The Headcam Cooking cooking instructions are videos shot with an actioncam from the cook's point of view. Thanks to the special recording technique, it is possible to look directly over the chef's shoulder. So far 190 episodes of Headcam Cooking have been filmed and broadcast on television. In addition to traditional, Bavarian and Austrian cuisine, recipes with cooking videos of international and Asian cuisine can be found on this cooking website. New cooking formats are being planned, TV stations as well as producers of food companies are welcome to contact us for an exchange or a new production. Recipe sponsoring and paid blog posts are possible under certain circumstances.
Recipes from the Professional Chef Thomas Sixt
The detailed recipes and cooking instructions are designed for beginners and advanced cooks. From fast cuisine to elaborate festive roasts, there is something for every taste. The gluten-free cuisine and gluten-free recipes will be presented as well as highlights of star cuisine. Thomas Sixt learned how to cook with Alfons Schuhbeck (1 star and then 19 points in the Gault e Millau). His years of training and travel led him to the German and international star gastronomy, well-known stations were the restaurant Tantris (Hans Haas, 2 stars) and the Residence Heinz Winkler (2-3 stars). Thomas often picks up recipes from other chefs or quotes their work. Among them are cooking artists such as Paul Bocuse, Eckhart Witzigmann, Jamie Oliver, Tim Mälzer, Roland Trettl, Hans Haas, Heinz Winkler and others.
Discover your favourite Recipe and cook with Joy!
On this german cooking website you can definitely discover your personal favourite recipes, dishes for various occasions such as Christmas, Easter, birthday parties or seasonal themes in the year such as pumpkin, strawberries, chanterelles, bear's garlic … the recipes are always passionately cooked with fresh ingredients and prepared with a lot of technical content to allow optimal cooking.
Various recipe categories invite you to discover dishes and menus. The main recipe categories are:
Services for Companies
Thomas Sixt offers catering for trade fairs with show cooking and cooking events from conception to implementation. Additional services for companies include recipe preparation with food photography, marketing support for food brands, gastronomy consulting and menu consulting for hotels as well as gastronomic change and quality management.
This website is offered in German and in English language. Discover Recipes from German Chef Thomas Sixt
It is important to me to convey mindfulness while eating: Discover the newly developed ICON DIET and the FOOD ENERGETICS concept. FOOD ENERGETICS offers you the opportunity to recognize food that strengthens you – and food that weakens you. Until we get to know each other personally, I wish you lots of fun trying out the recipes, good success and a pleasurable time.
OTHER LANGUAGES:
German