FOODBLOG BY GERMAN CHEF THOMAS SIXT
Hello, I am Thomas Sixt, chef and food photographer from Germany.
Here you will find:
Simple cooking and baking – more than 550 recipes
Free cooking ideas in monthly newsletter
Good luck!
NEW RECIPES FOR YOU
Honestly, I'm always cooking and I always have the camera with me.
Now this is not quite right, because there are usually several cameras 🙂
Anyway, after this text you will find some brand new cooking ideas that I just conjured up fresh.
You can find all cooking recipes in order of creation on the page all recipes of Thomas Sixt.
TYPICAL AUTHENTIC GERMAN RECIPES
Below you will find some typical German recipes ideas.
Here you can discover German specialties and cook yourself.
EASY GERMAN APPLE PIE
The simple apple pie is quickly prepared and fits perfectly into the season.
I wish you a lot of fun with baking.
KNUCKLE OF PORK – BAVARIAN SCHWEINSHAXEN
Suitable for the Wiesn (Oktoberfest in Munich) and the cold season I have the popular Hachse photographically reinterpreted with a Leica Q2.
MEAT BALLS
Meatballs in sour sauce are a classic of German cuisine.
MEAT LOAF
The German, false hare, here relaunched with a fine sauce.
CREAMY MUSHROOMS WITH DUMPLINGS
We like our dumplings and vegetarian tastes fine with mushrooms….
BAVARIAN ROAST PORK
A dish directly from my Bavarian homeland to re-cook for you 🙂
BREAD DUMPLINGS
In Germany, Austria and in Bavaria of Course we Love Dumplings…
GERMAN ROULADES
In Germany, we are specialist on Braised Beef Roulades with great Gravy 🙂
GERMAN PANCAKES
You may know this wonderful pastry also under the name "Palatschinken" 🙂
SUITABLE FOR THE SEASON
Braised and goulash dishes, fine soups and stews are excellent in autumn and winter.
GOULASH & CO
Suitable for the season you will find typical stews
with and without meat in this category:
Have fun and good luck 🙂
SOUPS RECIPES IDEAS
They succeed quickly and taste delicious,
are popular and digestible as dinner.
Discover recipe ideas for soups.
Wish you good luck!
PUMPKIN RECIPES IDEAS
The pumpkin accompanies us from Halloween throughout the winter. It tastes simply delicious and quickly finds its way into the cooking pot or onto the baking tray.
Discover here a selection and all -> pumpkin recipes
KITCHEN STORIES FROM PORTUGAL
I love international cuisine and enjoy visiting colleagues in the kitchen.
Below you will find two beautiful Kitchen Stories from the Algarve in Portugal.
CATAPLANA REZEPT KITCHEN STORY AUS BURGAU
PREPARE SUCKLING PIG KITCHEN STORY
POTATO SALAD AT ITS BEST
Delicious potato salad recipes always make happy!
As a side dish and as a main course with lots of vegetables.
Discover my tips for new and quick variations:
LOW CARB
Who now wants to watch the slim line finds fine ideas for balance and diet.
Low carb recipes I have summarized for you in an extra category.
POPULAR CATEGORIES
Here you can find a list of the most popular categories.
A complete overview of the online cookbook can be found on the Recipes Categories page.
BAKING RECIPES
Discover beautiful baking recipes for Sunday cake and other sweet bakeries.
COOKING TIPS AND COOKING SCHOOL
Cooking tips from a cooking professional sums up the idea of the online cooking school quite well.
Here I answer common cooking questions and you'll find step by step instructions on cooking techniques.
Questions that you notice in the recipe, you can send me directly via the comment function.
I am honestly happy about it, because we will only get better together!
Click here to go to the cooking school, have fun!
HELLO IN COOKING BLOG
I'm glad you stopped by…. This is my website, my name is Thomas Sixt, I am a chef, food photographer and author.
This site is all about delicious home cooking, find inspiration for great dishes and impressions from the kitchens of different countries, discover your new favorite recipe.
This is the Kochprofi food blog with more than 550 detailed cooking instructions and thousands of photos, cooking videos, exciting and interesting stories about cooking, enjoying and spending quality time together.
Good food flatters body and soul. Here there is professional support, personal and from the chef.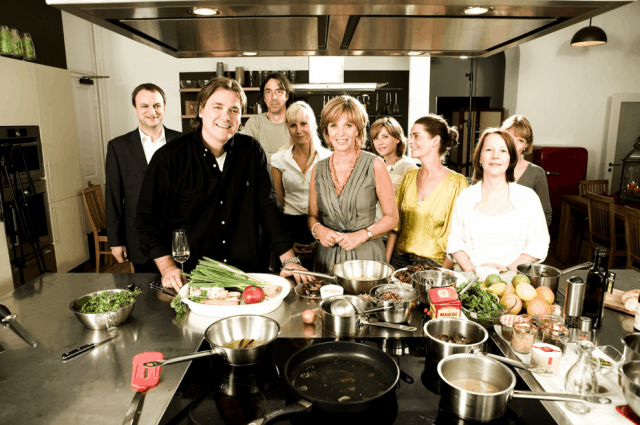 THOMAS SIXT CHEF AND FOOD PHOTOGRAPHER
Personal introductions are always sooo difficult…. Nevertheless a few words about me….
I learned the craft of cooking more than 20 years ago with Alfons Schuhbeck (1 star and 19 points in Gault e Millau).
My years of travel led me to the German and international star gastronomy, stations were well-known restaurants such as the Tantris in Munich (Hans Haas, 2 stars) and the Residenz Heinz Winkler (2-3 stars) in Aschau in Chiemgau.
Not only do I know how to cook in the restaurant industry, as a cooking trainer I have cooked with more than 10,000 clients in cooking classes and cooking events in the past.
So far, I have been able to publish four cookbooks with well-known publishers, and I have also produced my own apps and iBooks.
Today, I prefer to write online to inspire as many people as possible about good cooking.
Let's cook together! You will find on my site a large collection of recipes with photos and step by step instructions.

ONLINE COOKING SCHOOL
Cooking together is fun! You will find many ideas for your kitchen here on the cooking blog.
Cook down-to-earth dishes for every day or venture into the dishes of the big kitchen. In any case, you will find what you are looking for…
In general, I always try to teach you even complex preparations as simple as possible. Should a cooking question remain open, so please write me a comment.
My photo recipes are extensively written and designed. I explain cooking terms directly and without detours. I have really put in the work for you: The creation of an article takes about 10-12 hours, sometimes even longer.
Online cookbooks are very popular, after all, cooking stories, kitchen stories and photo recipes are the ideal guide for cooking at home.
Digital cooking instructions are super practical! Many photos clearly show you the selection and preparation of the dishes. You can learn the most important tricks in cooking videos and cook perfectly for your loved ones at home.
PERFECT DINNER WANTED?
Ask rather the cook professional! Because if your Mercedes is broken, you do not go to the hobby mechanic … 🙂
For your Perfect Dinner Menu, feel free to browse around and discover the dishes that suit you.
Unlike hobby cookery bloggers, I have learned the cooking trade from scratch. That's why I have a wealth of experience through my previous activities, which I am happy to share with you.
COOKINGVIDEOS HEADCAM COOKING
You will find here, among other things, cooking videos of my self-produced cooking show Head-Cam-Cooking, season I,II and III, which was broadcast over 3 years on Austrian television. Produced 2010-2013.
Look over my shoulder while I cook…. in Headcam Cooking I wear a camera on my head, it's videos, shot from the cook's point of view.
There are 190 episodes so far Headcam Cooking I'm currently focusing on food photography and writing here on the cooking blog.
WHAT MOVES ME SO…
I love the traditional country cuisine. Nationally and internationally I am always looking for the pearls. It's not just about gourmet or star cuisine but about authentic, good cooking, eating and drinking.
An old cast iron pan is sometimes preferable to me than a modern stainless steel pot, I use the microwave only to heat plates, pressure cookers I use only when there is no other way …
I have been photographing my food myself for 20 years. After all, the plate is empty after the meal. Therefore it makes sense to take a photo 🙂 .
Initially I just wanted to add photos to my internal cookbook, eventually clients and publishers became aware of my work through presentations and I was able to sell the first images commercially.
My cooking and food photography has continued to evolve over the years. About many a food picture or dish I can smile a bit today… and become wiser 😉
COOKING AND PHOTO ART
The art of cooking begins with me in the kitchen and sometimes a picture makes it to the wall. My thanks here to the interior designers and interior specialists friends who love and appreciate my pictures and incorporate them into the design of modern living spaces.
The subject of food art has occupied me since 2005, today I am happy to receive clients from all over the world.
Please let me know if you are remodeling your kitchen or want to redesign a dining area. I'll bring your favorite dish to the wall as a unique piece. You can reach me here.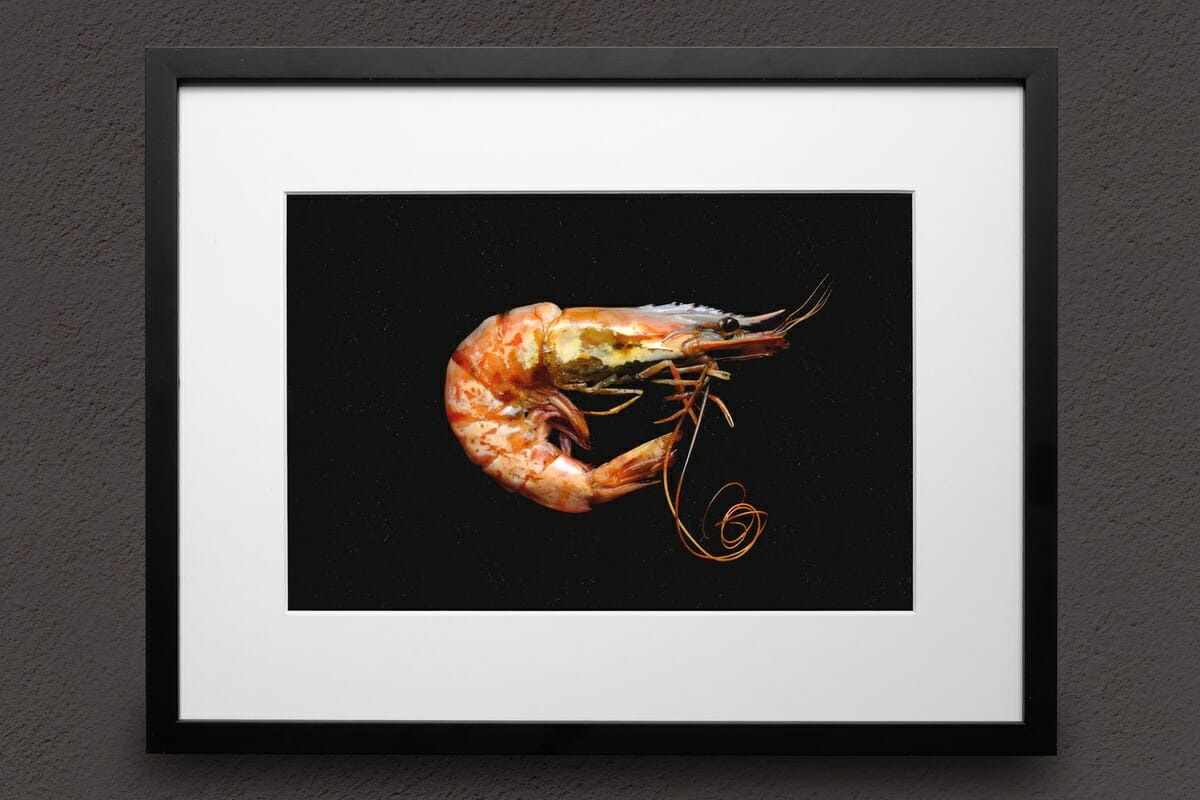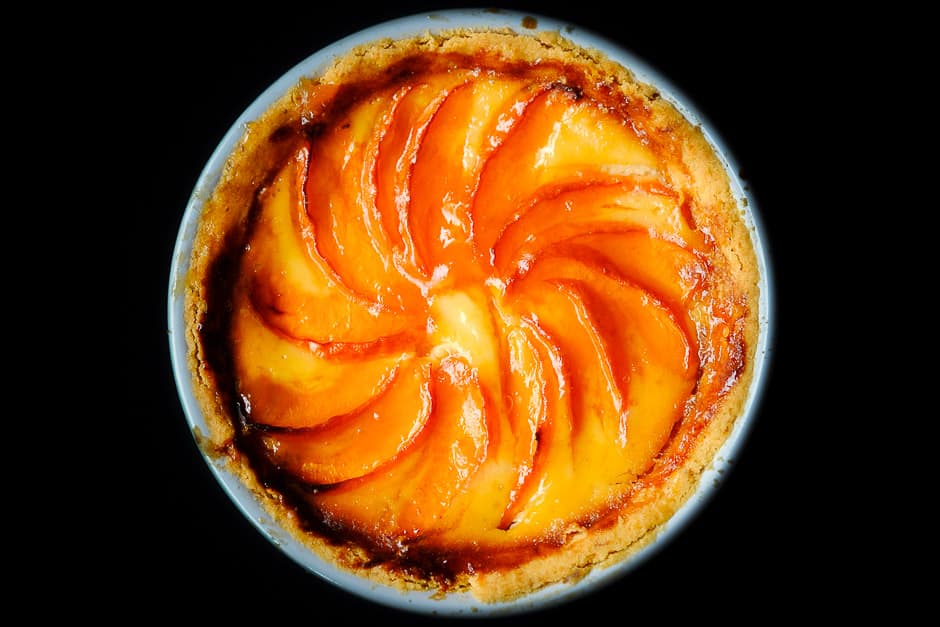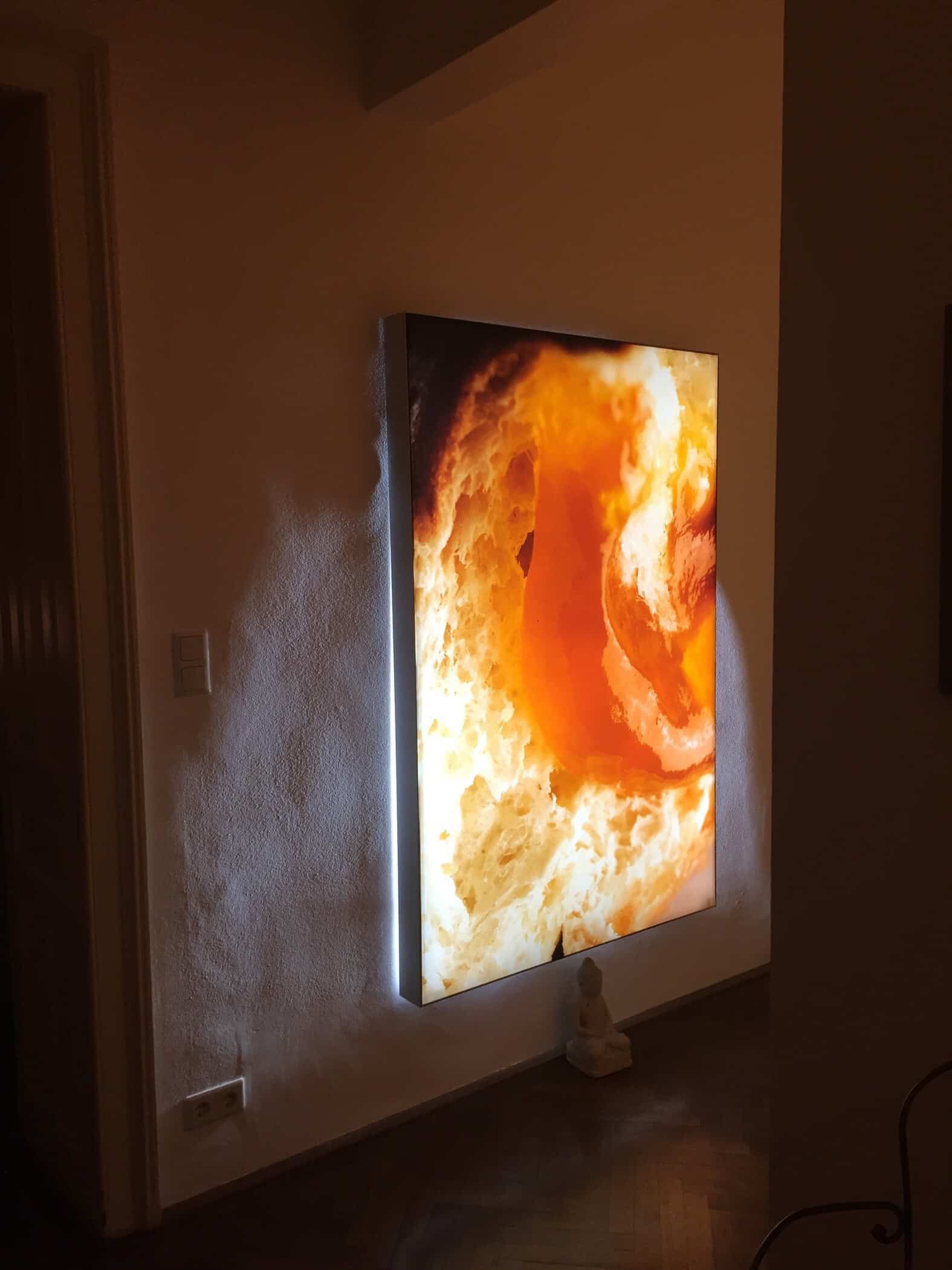 DISCOVER NEW FAVORITE RECIPES…
On this cooking website you can rediscover your personal favorite recipe.
Dishes for various occasions such as Christmas dinner, Easter, birthday party or seasonal themes in the annual cycle such as pumpkin, strawberries, chanterelles, wild garlic are numerous.
The recipes are always passionately cooked with fresh ingredients and prepared with a lot of technical content to allow you an optimal and varied re-cooking.
Different categories help you to make your choice:
–> Soups, because a soup is always good for you.
–> Main courses, because everyday life needs variety.
–> Because it's good for the soul: vegetarian cooking
–> Think about dinner recipes, it can be cooked quickly 🙂.
–> For festive cooking and holidays, there is the fondue to discover.
–> The popular risotto and pasta dishes offer a good change of pace.
–> For the sweet end, please be sure to check out the desserts or baking section.
–> Discover classics of German cuisine… Wiener Schnitzel, roast goose and christmas goose and cook the dishes like a pro.
Personally, I'm interested in gluten-free diets. You'll find lots of healthy ideas here.
PRESS RELEASES WITH THOMAS SIXT
welt.de – Ausgekocht; stern.de – Wiesn Rezept und Artikel zu meiner Lehrzeit bei Alfons Schuhbeck; Annemarie Wildeisens Kochen – Interview zum Foodblog; freundin.de – diverse Rezepte; derstandard.at – Diverse Artikel; CLOSER – Glutenfrei kochen mit Thomas Sixt; WELTBILD.at – Kochbuch Thomas Sixt kocht vor; W24 Guten Abend Wien – Thomas Sixt zu Gast in der Sendung; iBookstore Feature – iPad® Kochbuchserie von Thomas Sixt – derstandard.at – Headcam cooking, Koch mit Leib, Seele, Schmäh; regensburg-digital.de – Händlmaier Ideenklau; BILD.de – Kochen mit Ruth Moschner; Alle meine Android Apps – Koch Apps von Thomas Sixt; Gesünder Leben – Kolumne über 2 Jahre; Lifestyle Magazin Trier – iPad Kochbuch Grillen und Chillen; Tageszeitung heute – Wiener Schnitzel App von Thomas Sixt, Neue Woche – Lamm wie ein Chefkoch zubereiten, Neue Woche – Pfiffige Ideen für Gemüse, Freizeit Spass – Saucentipps; Freizeit Revue – Gans und Ente für Weihnachten; Neue Woche – Leckere Vorspeisen für Weihnachten; Bambi 2009 – Live cooking und Bericht hinter den Kulissen; Lust auf Genuss – Kochen mit Ulrike Kriener, Freizeit Spass – Kochideen für Kohl und Kümmel; Freizeit Spass – Meerrettich Kochtipps; Freizeit Revue – mehrseitiges Sommerspezial; Neue Woche – Feine Ideen für Hackfleisch; Ganze Woche – Vorstellung Blog und Dienstleistungen; Freizeit Revue – Grilltipps und BBQ-Tipps; Technik Update – Thomas Sixt stellt Rieber Thermoplate vor; Frau im Spiegel – SMS Rezeptedienst von Thomas Sixt; Men´s Health – 28 Küchen und Meistertricks für gesunde und schnelle Küche; Come In Douglas Magazin – Vorstellung Kochkurse; MADAME – Kochkurs mit Thomas Sixt ; Computerbild – Kochvideos als erster im Internet (2000); Bild am Sonntag – Party mit dem Profikoch; Marie Claire – Privatkoch für zu Hause; Fit for Fun– Gesund kochen für zu Hause; emedia – Punsch und Weihnachtsrezepte aus dem Internet; Leckerbissen und Feinspitz aus Österreich– Kinder Kochschule; Presse Schaufenster – Kochkurse und Kochschule Wien; Rondo der standard – Kochschule Wien; News – Haubenmenü für zu Hause; MHK Welt – Showkochen mit Thomas Sixt auf der Focus Küche und Bad; Presse Schaufenster – Kochkurs in Wien Gutschein für Weihnachten
This website is offered in German and in English.