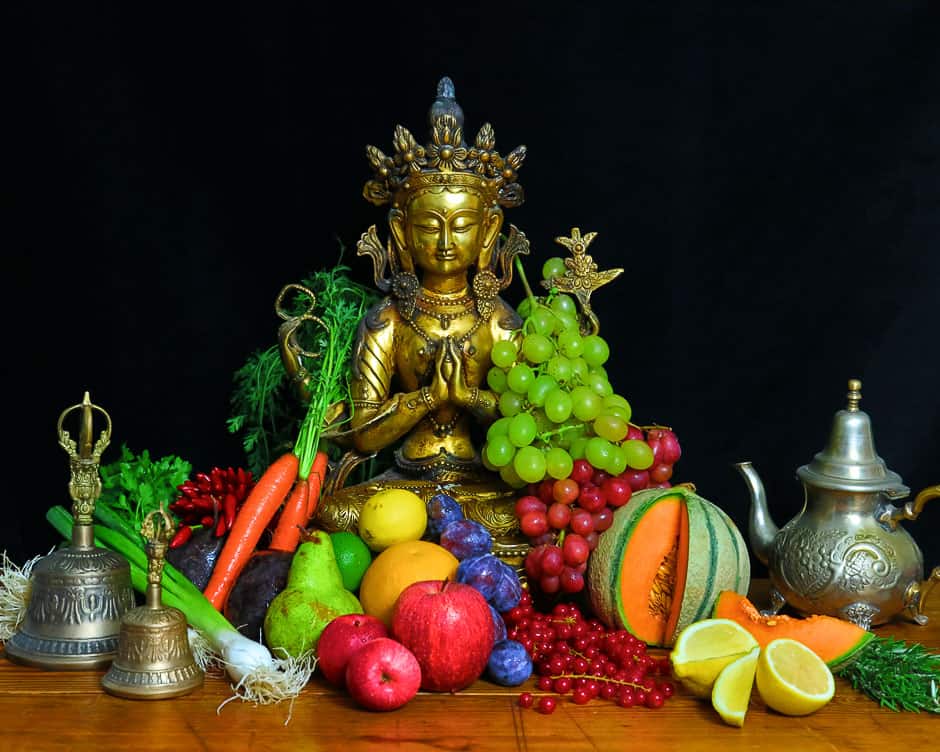 OTHER LANGUAGES:
German
This list for seasons and season ingredients is always practical and accompanies me since my apprenticeship to the cook.
The ingredients are listed monthly, so the ingredients calendar is clearly arranged.
A wonderful helper for shopping at the market and also as a suggestion for a weekly or monthly plan. For each month I have supplemented you a great recipe as a recommendation.
Seasonal cuisine is particularly important for a healthy diet. Have a lot of fun and choose happy ingredients.
1. January
Fish season in January:
Barbel, cod, carp, salmon, salmon, anchovy, tench, sea eel, turbot, catfish, oyster, foie gras, caviar, mussel, pilgrims mussel
Fruit season in January:
Apple, pineapple, orange, banana, quince
Meat season in January:
Pheasant, goose, broiler chicken, turkey, snow grouse, bear meat, reindeer, red deer, wild boar, mutton, beef, pork
Vegetable season in January:
Cabbage, Brussels sprouts, black salsify, celery mushrooms, truffles
2. February
Fish season in February:
Barbel, cod, carp, ray, char, salmon, anchovy, tench, sea barbel, sea trout, turbot, white fish, catfish, mussel, pilgrim mussel
Fruit season in February:
Apple, pineapple, orange, banana
Meat season in February:
Pheasant, goose, broiler chicken, reindeer, red deer, wild boar, oyster, goose liver, caviar, lapwing eggs, mutton, beef, pork
Vegetable season in February:
Cabbage, Brussels sprouts, black salsify, radishes, mushrooms
3. March
Fish season in March:
Cod, carp, ray, red mullet, char, anchovy, sea barbel, shrimp, sea trout, turbot, white fish, catfish
Meat season in March:
Guinea fowl, wild boar, goose liver, caviar, mutton, veal, lamb, beef, pork
Vegetable season in March:
Radish, black salsify, mushroom, wild garlic
Fruit season in March:
Apple, pineapple, orange, dwarf apple
4. April
Fish season April:
Fogasch, cod, carp, gurnard, ray, redfish, char, anchovy, sea barbel, sea trout, sole, turbot, catfish, pike-perch, lobster, shrimp, shrimp
Meat season April:
Chickens, guinea fowl, wild boar, goose liver, veal, lamb, pork
Vegetable season April:
Asparagus, hop germs, radishes, mushrooms, morels, wild garlic
Fruit season April:
Pineapple, orange, Rharbarber, dwarf apple
5. May
Fish season May:
Eel, blue whitefish, fogashe, salmon trout, allis shad, mackerel, ray, char, maize floe, sea barbel, sea trout, sole, sturgeon, catfish, pikeperch, scallops, prawn, lobster, crab, prawn
Meat season May:
Young goose, chick, guinea fowl, snipe, wild boar, veal, lamb
Vegetable season May:
Artichoke, green beans, peas, kohlrabi, asparagus,, endive hop sprouts, mushrooms, morels, wild garlic
Fruit season May:
Orange, apricot, strawberry, cherry, rhubarb, sour cherry
6. June
Fish season June:
Eel, blue whitefish, fogasch, herring green, salmon trout, allis shad, mackerel, ray, char, plaice, sea barbel, sea trout, sole, sturgeon, catfish, angler, tuna, scallops, lobster, crab, shrimp, lobster
Meat season June:
Young chicken, bachelor goose, chicken, guinea fowl, snipe, rabbit, wild boar, veal, lamb
Vegetable season June:
Artichoke, green beans, eggplant, kohlrabi, asparagus, endive, cucumber mushroom, chanterelles
Fruit season June:
Orange, apricot, blueberry, strawberry, blueberry, raspberry, redcurrant, cherry, sour cherry, gooseberry
7. July
Fish season July:
Eel, perch, blue whitefish, cod, fogas, houses, pike, herring green, allis shad, mackerel, char, plaice, lake trout, sole, sturgeon, tuna, catfish, pike-perch, scallops, lobster, cancer, lobster
Meat season July:
Duck, young chicken, bachelor goose, teal, chick, guinea fowl, pigeon, snipe, newbie, rabbit, wild boar, veal
Vegetable season July:
Beans green, aubergine, kohlrabi, leek, savoy cabbage, endive, cucumber, mushroom, chanterelles, porcini mushrooms
Fruit season July:
Orange, apricot, blueberry, strawberry, fig green, blueberry, raspberry, blackcurrant, cherry, almond, melon, nectarine, peach, sour cherry, gooseberry, gooseberry
8. August
Fish season August:
Eel, perch, blue catfish, cod, houses, pike, herring green, allis shad, mackerel, char, sardine, plaice, lake trout, sole, sturgeon, catfish, pikeperch, scallops, lobster, crab, lobster, lobster, pile mussel
Meat season August:
Duck, young chicken, young goose, Krammotsvogel, teal, chick, pigeon, newbie, rabbit, wild boar, veal
Vegetable season August:
Green beans, aubergine, kohlrabi, leek, red cabbage, white cabbage, savoy cabbage, onion, tomatoes, mushrooms, chanterelles, porcini mushrooms, pumpkin
Fruit season August:
Apricot, blueberry, fig green, blueberry, almonds, melon, nectarines, peach, plum, purée claude, sour cherry, walnut
9. September
Fish season September:
Eel, perch, house fish, pike, herring green, carp, seibling, sardine, tench, plaice, conger eel, sole, scallops, lobster, crab, lobster, mussel, mussel, pile mussel
Meat season September:
Duck, young chicken, bachelor goose, octopus, teal, chick, partridge, pigeon, quail, hare, deer, rabbit, wild boar, veal, pork
Vegetable season September:
Mushroom, chanterelles, carrot, cabbage, kohlrabi, leek, leek, Brussels sprouts, red cabbage, white cabbage, savoy cabbage, onion, pumpkin
Fruit season September:
Apricot, pear, blueberry, blueberry, almond, melon, nectarine, peach, plum, cranberry, pure claude, walnut, grape
10. October
Fish season October:
Houses, pike, huchen, cod, carp, haddock, tench, conger eel, sole, turbot, catfish, mussel, mussel, mussel, pile mussel
Meat season October:
Goose, creme bird, teal, moorhen, turkey, partridge, snipe, pigeon, turkey, quail, grouse, wild duck, wild goose, mutton, pork, badger, fallow deer, hare, deer, rabbit, roe deer, wild boar, foie gras
Fruit season October:
Orange, Banana, Pear, Almond, Nectarine, Peach, Plum, Quince, Grape
Vegetable season October:
mushrooms, chanterelles, truffles, carrots, cabbage, leek, Brussels sprouts, celery, tomato, red cabbage, Teltower beets, white cabbage, savoy cabbage, pumpkin
11. November
Fish season November:
Barbel, pike, huchen, cod, carp, salmon, salmon, haddock, tench, sea eel, turbot, catfish, mussel, mussel, pile mussel, caviar
Meat season November:
Pheasant, common partridge, fat bunting, goose, octopus, teal, fattened chicken, moorhen, turkey, partridge, snow grouse, snipe, pigeon, turkey, wild duck, wild goose, badger, fallow deer, hare, deer, rabbit, deer, red deer, wild boar, goose liver, mutton, pig
Fruit season November:
Apple, orange, banana, pear, hazelnut, almond, quince
Vegetable season November:
Carrot, cabbage, leek, leek, Brussels sprouts, red cabbage, Teltower turnip, white cabbage, celery, mushroom, truffle
12. December
Fish season December:
Barbel, pike, huchen, cod, carp, salmon, salmon, anchovy, haddock, tench, conger eel, turbot, catfish, caviar, oyster, mussel
Meat season December:
Pheasant, field chicken, fat bunting, goose, rooster, fattened chicken, grouse, turkey, snow grouse, snipe, turkey, wild duck, wild goose, bear meat, fallow deer, hare, deer, roe deer, goose liver, mutton, beef, pork
Fruit season December:
apple, pineapple, orange, banana, pear, hazelnut, quince
Vegetable season December:
mushroom, Brussels sprouts, kale, celery, radicchio, endive, lamb's lettuce, truffle
OTHER LANGUAGES:
German