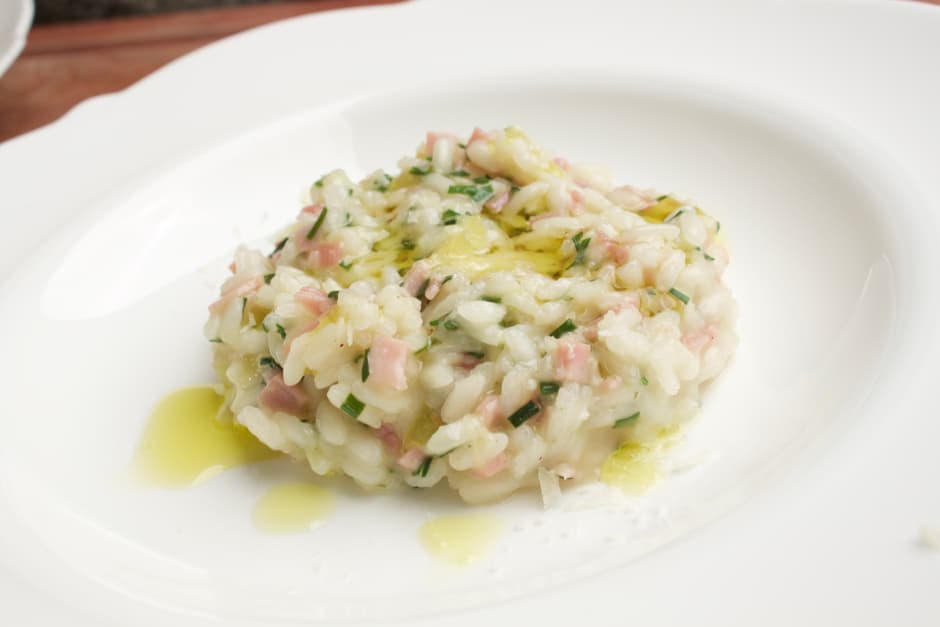 120

g

risotto rice

Arborio, Vialone nano

400

ml

vegetable stock

80

ml

white wine

dry

1

bunch of

chive

a little

garlic

90

g

cooked ham

a dash of

netmug

4

tbsp

olive oil

a little

Butter

40

g

Parmesan

salt

pepper
Put the risotto rice into a pot an add the vegetable stock and and a dash go white wine.
Cover the pot with a lid, heat the pot and start cooking the risotto.
Cut the chives finely in rolls, also gut the garlic and slice and cube the ham.
After 6 minxes cooking, take off the lid and add the garlic.
Season the risotto to taste with netmug,salt and pepper.
Stir the risotto and cook it again with a lid.
Add the ham and the chives shortly before the cooking is finished.
Cook the risotto uncovered to the end, refine with some butter and serve.
ZUse a smal ring for serving, so that the risotto stays in "shape".
Finally sprinkle the risotto with cold olive oil and serve with sprinkled cheese.
Cooking tips:
There is an exotic version of this recipe: Take coriander instead of chives and the season the risotto with soy sauce and sesame oil. For decoration use a teaspoon of roasted sesame.