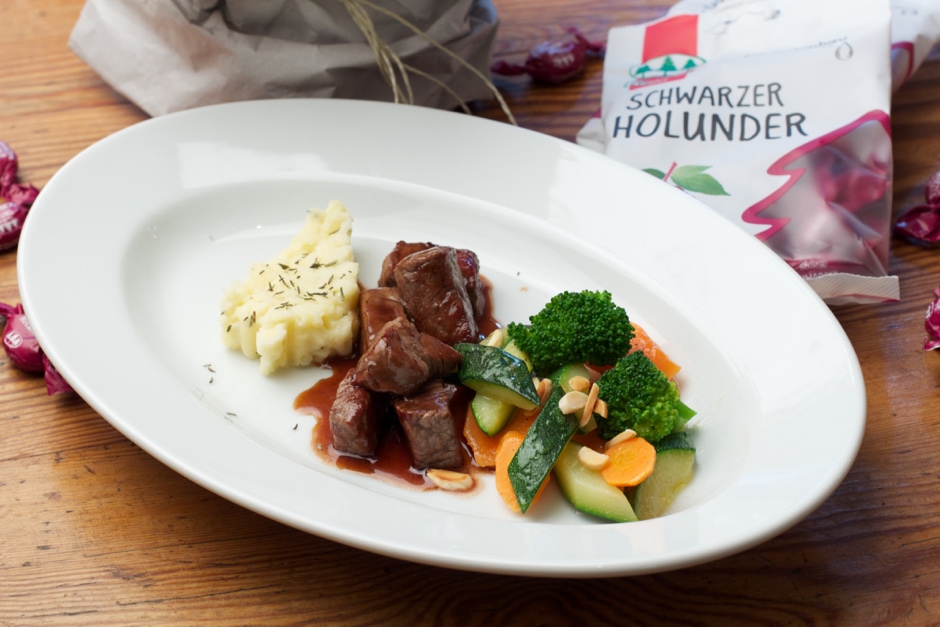 500

g

beef goulash

roughly diced

2

onions

big

1-2

tablespoon

sunflower oil

2

tablespoon

tomato paste

1

bottle

Rioja

spanish red wine

1

glass

veal stock

5

black elder candies

120

ml

olive oil

1/2

teaspoon

thyme

2

Zucchini

2

carrots

2

Broccoli

80

g

Butter

salt

pepper

Paprika

nutmeg
Brown the beef goulash and the diced onions in sun flour oil until it colours in.
Add the tomato puree, brown it fast then extinguish it with the vine and the veal stock.
Ground the elder bonbons in a mortar and add it to the beef ragout.
Let the ragout simmer for approximately 1,5 hours.
Season it with salt, pepper, and paprika. Take the cornstarch add 100ml of water and stir it up, then add it to the beef ragout to bind the sauce.
Peel the potatoes, cut them into even slices and cook them in salt water until they are firm to the bite. Drain the cooked potatoes and mash them, than season the mashed potatoes with thyme, salt, pepper, nutmeg and olive oil.
Slice the zucchini and steam them until they are firm to the bite. Peel the carrots and steam them the same way. Divide the broccoli into florets, cut a cross into the stem and steam it until it is firm to the bite.
Refine the steamed vegetables with butter, salt and pepper in a pot, and season it with the nutmeg.
Prepare the beef ragout on a plate, with the vegetables and the mashed potatoes. Add the mashed potatoes so that it becomes the form of a fir tree, and serve it while its hot.