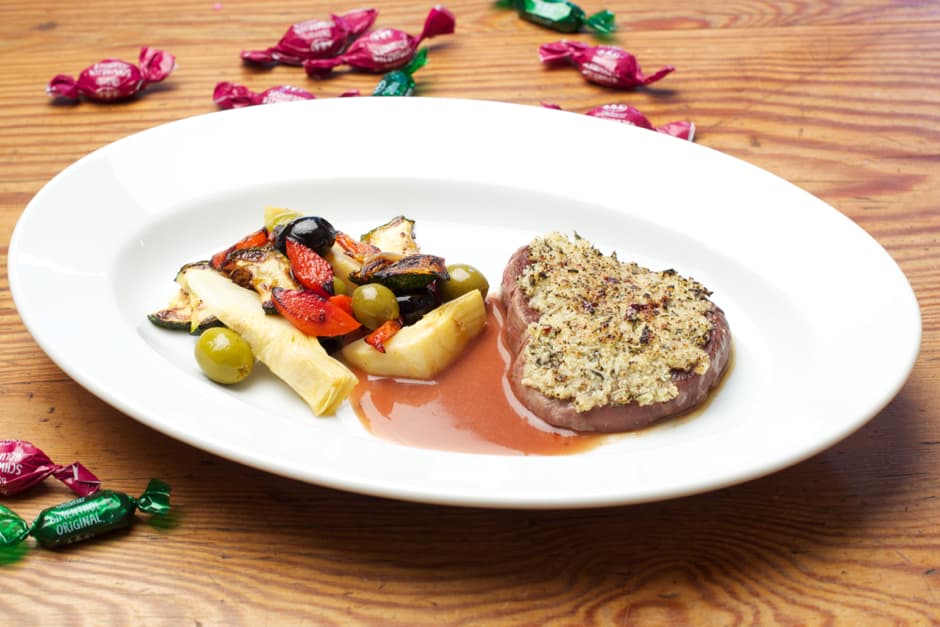 5

black elder candies

2

glasses of

veal stock

25

g

dark chocolate

50

g

Butter

4

slices

beef fillet

1

tbsp

sunflower oil

4

tbsp

breadcrumbs

1

tsp

rosemary

dried

1

tsp

thyme

dried

4

tbsp

olive oil

3

pieces of

Bimenthol candy

4

red paprika

1

Zucchini

4

shallots

2

tbsp

olive oil

1

glasses of

artichokes

pickled

20

black and green olives

salt

pepper
Ground the black elder candies in the mortar, boil it with the beef stock, the dark chocolate down until it becomes gravy.
Add butter to the gravy and mix it, then place it aside for further steps.
Sear the beef fillet slices in the sunflower oil from both sides. Place the slices on a cold baking tray and season them with salt and pepper.
Ground the breadcrumbs, rosemary, thyme, olive oil and the Bimenthol candy in the mortar and add salt pepper and olive oil, so that it becomes a herb crust
Preheat the oven to 220 °C on the grill step. Slice the zucchini in 5mm slices, peal and eight the shallots, and put all of it on a backing tray. Pour some olive oil over it and season the vegetables with slat and pepper. Let the vegetables cook for app. 15 minutes, then add the drained artichokes and the olives and put it into the lower part of the oven.
Cover the beef fillet with a 5mm herb crust and let it bake until it is brown for app. 10 minutes in the oven.
Dress the vegetables, boil the sauce up and add it to them.
Place the beef fillet to the vegetables and serve it quickly.