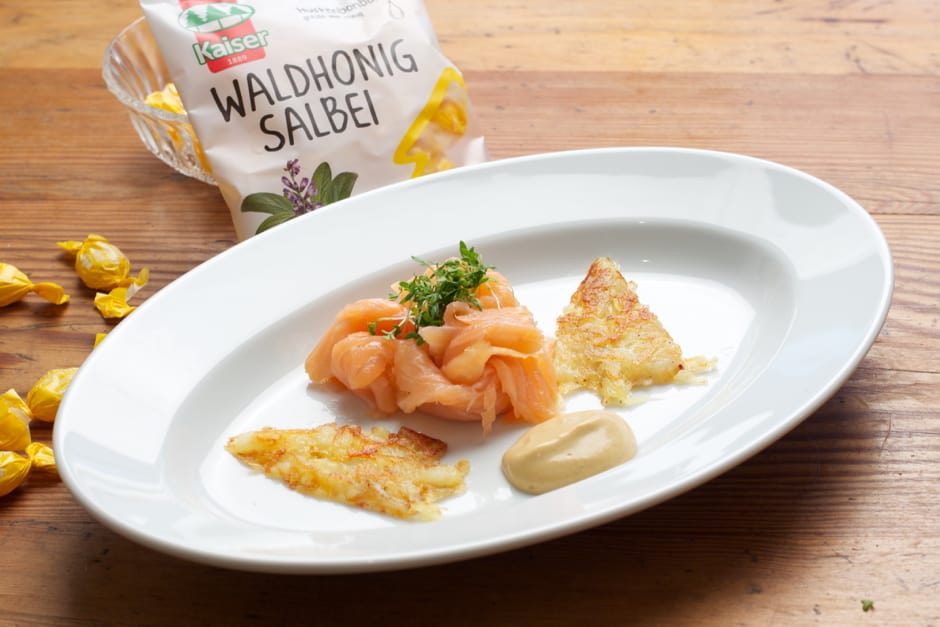 400

g

smoked salmon

or smoked trout

10

pieces of

forest honey sage candies

80

ml

water

4

tbsp

mustard

medium hot, in Austria: Etragon mustard

4

potatoes

big

80

ml

sunflower oil

salt

pepper

nutmeg

1

bunch of

chervil
ake the smoked salmon out of the fridge, and let it temper.
Ground the sage candies in the mortar and boil it down with the water until it becomes a syrup.
Mix the mustard and the candy syrup in a bowl and place it aside.
Peel the potatoes, coarsely grate them, and season it with salt, pepper and nutmeg. Heat-up the sunflower oil in a pan. Put the potato mixture into the pan and flatten it.
Brown the potato pancake for 5 minutes with reduced heat, turn them and let them brow to the finish.
Put the potato pancake on a chopping board and cut out a form of a fir tree.
Dress the salmon slices as a flower on a plate, add the potato pancake and the forest honey sage mustard. Decorate the mustard with a little chervil and serve quickly.