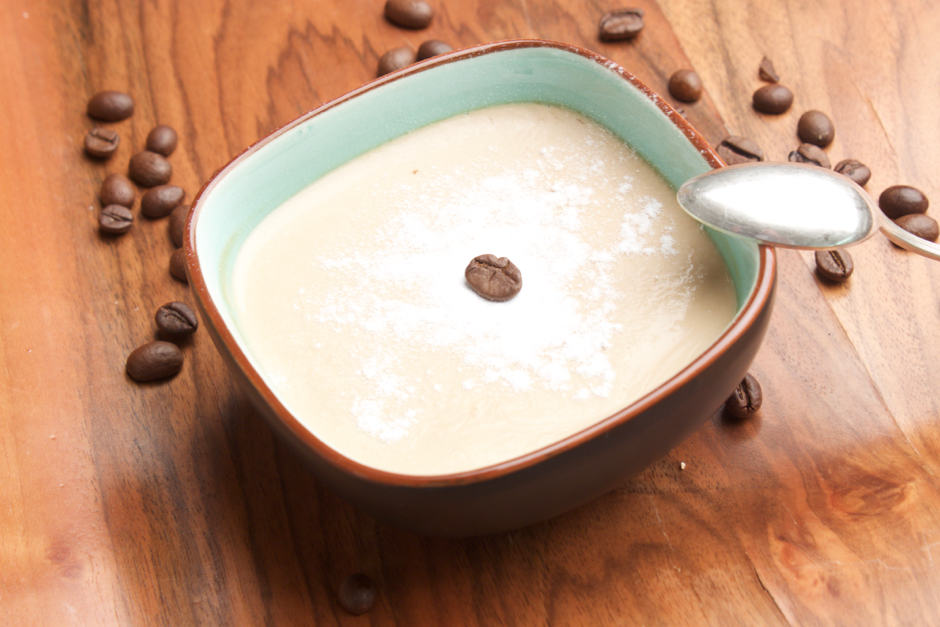 Everyone loves coffee – the perfect day starts with a good cup of coffee and in my opinion, it also ends with one. It gives us energy for our whole day. Coffee beans are also great for chocolate and desserts. That's why I will show you today a tasty and quick coffee creme.
Our elixir of life: coffee
The average person drinks about 5 cups of coffee a day. Coffee is a real pleasure for us and gives us the energy we all need in our daily routine. In brief: coffee makes our life worth living.
Did you know that we drink coffee since the 15th century, but it was discovered much earlier!
Quick coffee pleasure
This dessert isn't only delicious, you can also prepare it in a very short time (30 minutes). Only when everything is finished you have to patient as the cream takes a little bit of time to thicken in the fridge.
Is your mouth already watering?
Okay, then it is time to tell you something about the preparation:
Which coffee beans shall I use?
In general you can buy the beans you like in the supermarket (fresh our already ground). But the quality is crucial for the taste. That's why I prefer freshly roasted beans.
Every coffee roast has different flavors, for example more chocolate or more fruity. Just take the ones that appeal to you.
I ordered my beans on the internet and I'm really satisfied with them. The roaster is called Rabenschwarz Coffee.
Whether fresh or already ground, the first step for our coffee cream is to make coffee. Because I prefer an intense coffee flavor in my cream, I make half a cup of coffee. You can also make a little less if you like less coffee flavor.
Ready for caffeine?
Once the coffee is ready, I'm cutting ginger into tiny pieces. The ginger makes my mousse really special and tastes amazing in combination with the coffee cream. When the ginger pieces are small enough, I mash them with my knife.
Then I add the ginger together with brown sugar to the pan and wait until everything caramelizes.
I prefer brown sugar for caramelizing, then the flavor is more intense
I start stirring when the sugar starts to melt. Then I deglaze with coffee and I take the pot off the stove.
Before I can add the QimiQ, the liquid has to cool down a little. I stir for a few minutes – that's good for my muscles 🙂
The key ingredient: Qimiq
You might know Qimiq from the supermarket. But did you know what Qimiq really is? In general Qimiq is cream with gelatin. So we just need one product instead of two. Also we don't have to deal with the gelatin and we save time. For the coffee mousse I mix in the Qimiq with a whisk. One cooking tip: take the Qimiq out of the fridge half an hour before you need it, then it won't get lumpy.
In the end pour in some coffee liqueur. If you prepare the cream also for children, add the liqueur when the coffee cream is still hot. Then it won't taste alcoholic. Another possibility is that you make one cream for the adults with liqueur and one for the children without.
The cream is very smooth and gets creamy in the fridge – just be a little patient with our delicious coffee mousse.
You can find more cooking tips in my video. Have fun while watching!
Similar recipes on other websites:
On Sia's Blog I found a great recipe for a coffee creme brûlée.
On sweet dreams a brownie recipe with coffee mousse is shown. Click here.
Cooking Video Quick coffee mousse
Recipe for Quick coffee mousse
4

tbsp

brown sugar

2

slices

ginger

4

cups

espresso

cold

1

tbsp

coffee liqueur

2

packs

Qimiq

icing sugar

4

pieces of

coffee beans
Heat the sugar in a pot and let it caramelize slightly, then add the finely diced ginger. Deglaze with the coffee, add the liqueur and stir in the QimiQ.
Beat the coffee cream until cold, then fill it into moulds and let the mousse cool in the fridge for 2 hours.
Serve the coffee mousse with icing sugar and decorate it with a coffee bean.