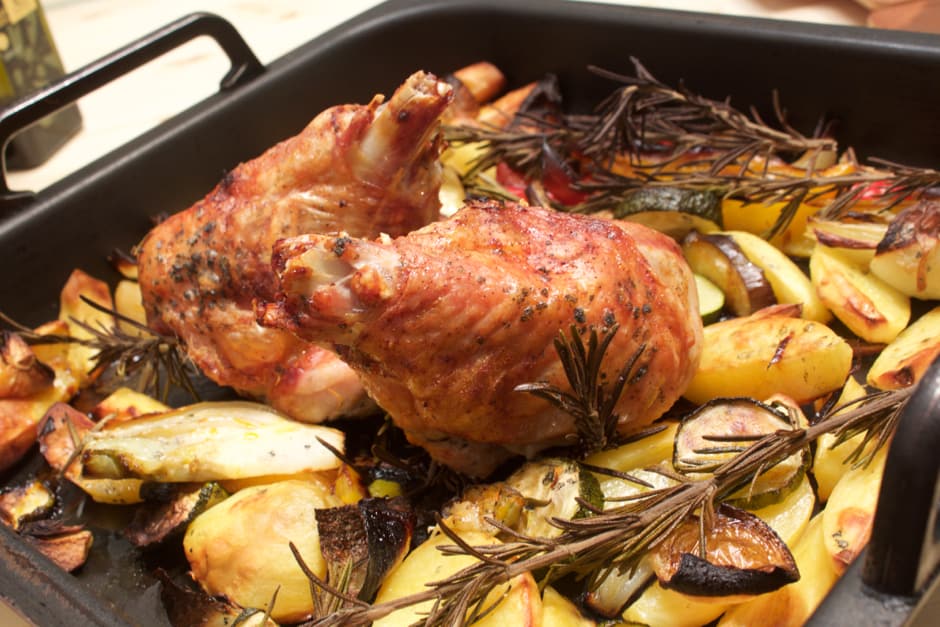 4

tbsp

olive oil

5

potatoes

1

Paprika

fresh

1

Zucchini

1

eggplant

small

1

fennel bulb

1

onions

2

turkey legs

paprika spice

Chili

dried

5

twigs

rosemary

fresh

100

ml

white wine

salt

pepper

black, grounded
Sprinkle the Turkey legs and the oven vegetables with some olive oil and prepare a  baking tray.
Preheat the oven and tour 230°, by using the hot air option.
All all of the vegetables finely, quarter the potatoes, and slice the paprika lengthwise.
Cut the zucchini into thick slices, so the same with the eggplants.
Quarter the fennel, and slice the onion finely.
Put all of the vegetables into the roaster, add the Turkey legs and season it with salt, pepper, paprika, chili and olive oil.
Place the Rosemary on top and put it into the oven.
After approximately 30 minutes of cooking and some white wine.  Variate the temperature according to the size of the Turkey legs.  Start with230 degrees then with 110°C at the end you can turn the heat up again.
Serve the Turkey legs and the oven vegetable and enjoyed it.