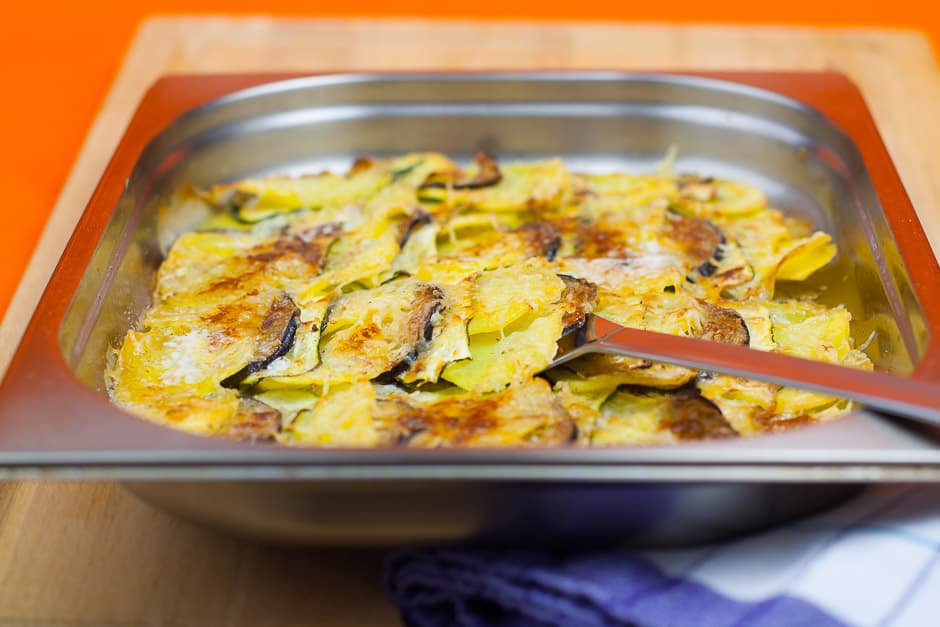 OTHER LANGUAGES:
German
In this article I show you the fast Potato Gratin recipe. It comes from my first cookbook: Der Minutenkoch – schmeckt.schneller. I have optimised and refined the dish many times in recent years.
In addition to potatoes as the main ingredient, courgettes are also added to the casserole. With a little skill you can prepare it in less than 15 minutes. Then the oven does the work and you can dress up for dinner. 
I wish you all the best and look forward to your comments at the end of this page.
Potato gratin potato variety: Use a waxy potato variety for potato gratin and potato gratin.
1. Potato Gratin Shopping List
You need for the potato gratin:
waxy potatoes
courgette
cream
garlic
vegetable broth (cubes or powder)
salt, pepper, cayenne pepper and nutmeg
some cheese, for example freshly grated Emmentaler for the finish
The exact quantities can be found in the potato gratin recipe at the bottom of the page.
2. Vegetarian Potato Gratin and Side Dishes
You can tell by the shopping list This potato gratin is vegetarian and creates variety at the dining table.
I like to serve a colourful leaf salad with the potato gratin. So the creamy preparation with cream finds a refreshing addition.
Always wash the salad thoroughly, then spin dry and marinate with a simple vinegar-oil dressing. Tomatoes, radishes and other vegetables are an excellent accompaniment.
3. Prepare Potato Gratin, Professional Cooking Tips
Please observe the following preparation tips during preparation:
Use a waxy potato variety.
Plane the peeled potatoes evenly thin with a kitchen plane.
The thinner the potatoes and courgettes are planed, the faster the casserole is ready.
Cut additional vegetables such as zucchini, mushrooms or eggplant into thin slices.
Put the spinach in a thin layer because the spinach leaves a lot of water.
At best, fry the vegetables briefly beforehand to reduce the risk of the casserole becoming watery.
Always place other vegetables between a generous layer of thinly sliced potatoes.
Sprinkle the cream sauce vigorously with salt, pepper, cayenne and optional broth.
Season to taste very salty, as the potatoes always need a lot of salt.
With cheese you can try out new things flexibly, Emmentaler, Gouda, light blue cheese, Parmesan or Pecorino fit excellently.
Put the cheese on the casserole at the end and gratinate briefly.
I prepare this casserole classically without cheese!
Decorate the potato gratin with various herbs such as marjoram, fried sage or parsley.
Cook the last 10 minutes some cocktail tomatoes, lying on the casserole with, this is a great color game!
4. Recipe Potato Gratin
Here is the recipe for the wonderful potato gratin. I wish you success and a good appetite. Comments are welcome, write me at the end of the page.

Recipe for potato gratin with vegetables, a cooking recipe of cook professional Thomas Sixt. Prepare potato gratin like a star chef.
Servings

Prep Time

2

Persons

20

Minutes
Servings

Prep Time

2

Persons

20

Minutes
Recipe for potato gratin with vegetables, a cooking recipe of cook professional Thomas Sixt. Prepare potato gratin like a star chef.

Servings

Prep Time

2

Persons

20

Minutes

Servings

Prep Time

2

Persons

20

Minutes
2

pc

clove of garlic

1

pc

onion

0,4

l

cream

you may also use soy sauce

1

pc

vegetable broth cube

1

tsp

salt

6

pinch

white pepper

4

pinch

nutmeg

3

pinch

Cayenne pepper

2

pinch

Curry

yellow Madras Curry gives a tasteful depth

6-8

pc

potatoes

I use a waxy potato variety

25

g

Butter

soft

1-2

pc

Zucchini

150

g

grated Emmentaler

cheese is optional! also Gouda, blue cheese, Parmesan, Pecorino
Preheat the oven to 200°C. Peel and chop the garlic and onions.

Put onion cubes and garlic cubes in a saucepan. Add the cream, vegetable stock cubes, salt, pepper, nutmeg, cayenne pepper and curry and bring to the boil. Mix the cream stand with a hand blender and leave to stand for 5 minutes.

Cut the courgettes into long, thin slices or plane them evenly. A thickness of 2 mm is ideal.

Peel the potatoes. Cut the peeled potatoes into 3 mm thick slices.

Spread a casserole dish with the butter.

Place a layer of potato slices in the buttered casserole dish in a fan shape, then a layer of courgettes. Finally, place a mixed layer of zucchini slices and potato slices in the oven dish.

Pour the cream stand through a sieve over the potato gratin and distribute the liquid by shaking lightly.

Put the potato gratin in the oven for 25-30 minutes. Reduce the oven temperature to 175°C. Then optionally sprinkle with the finely grated cheese. Cook the potato gratin for another 10-15 minutes.

Cooking test: Pierce the potato gratin with a meat fork without resistance, and the potato gratin is ready!

Remove the potato gratin from the oven, portion and serve.

The potato gratin is a fully-fledged main course and goes just as well as a side dish with roast meat and fish as with roast lamb or beef.
5. Calories Potato Gratin, the Nutritional Values at a Glance
Nutrition Facts
Potato Grating Recipe
Amount Per Serving
Calories 824
Calories from Fat 621
% Daily Value*
Total Fat 69g 106%
Cholesterol 204mg 68%
Sodium 1408mg 59%
Potassium 923mg 26%
Total Carbohydrates 35g 12%
Protein 18g 36%
* Percent Daily Values are based on a 2000 calorie diet.
OTHER LANGUAGES:
German