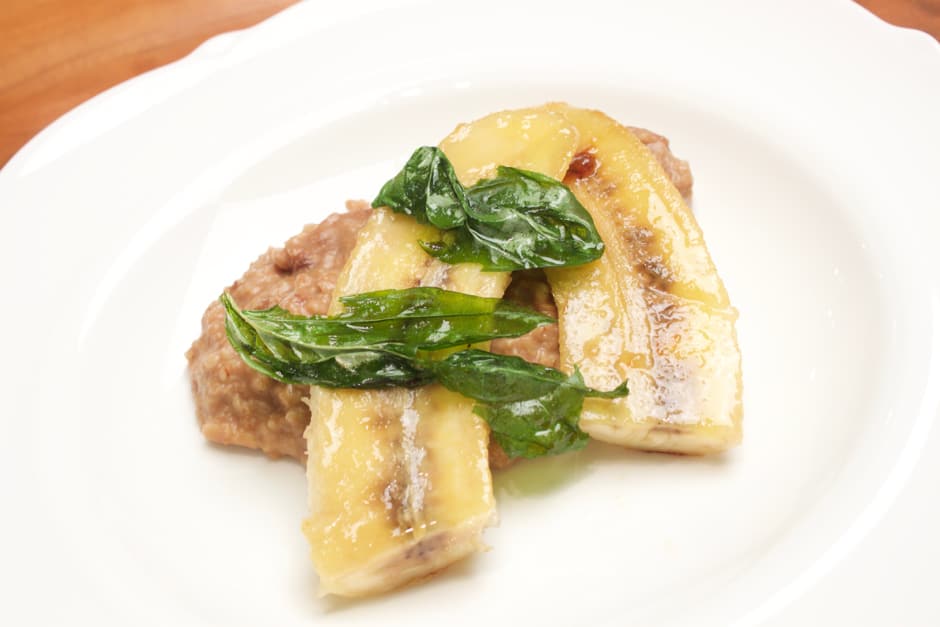 OTHER LANGUAGES:
German
My Porridge recipe is one of my favorite dishes for breakfast or brunch. On weekends I like to try out unusual dishes.
I like crispy, deep-fried herbs and so on a nice morning I combined porridge with caramelised banana and deep-fried basil.
It sounds complicated, but it's very simple. To make you believe me, I've included the Porridge video in this article. Step by step I show you the preparation and I am happy if you also try it out.
1. How to prepare Porridgelike a Star Chef
Porridge is prepared with oat flakes, milk, butter, salt and sugar. Depending on the mood of the day I add some vanilla sugar. After boiling milk, butter, salt and sugar I add the oat flakes. After a short cooking time, the porridge may draw for some time and develop standing next to the stove. I like this breakfast porridge, it warms the stomach and strengthens until lunch. For the milk, I alternate between soy milk and lactose-free cow's milk. Special porridge mixtures make the preparation easier by the way, I like to fall back here on the Mymüsli mixtures. While the porridge is cooking I take care of the remaining ingredients.
Oat porridge tastes better with some salt and butter
2. Deep-fried, crispy Basil as an ingenious Topping on the Porridge
I think, you will never forget this wonderful combination of creamy porridge, caramelised banana and crispy herbs… Use a pan with lid, fry some basil leaves floating in hot coconut fat. You need the lid because the herbs spray lightly into the fat. When the basil is crispy, take it out of the pan and put the leaves on a plate with kitchen paper. Do not forget to add salt lightly! You can use the oil for frying shrimps, fish, meat or vegetables. Fill it in so that we can prepare the banana in the pan next.
Fried herbs taste great, even with sweet porridge!
3. How to caramelize Banana
Heat the pan without fat or oil. Cut the banana in half lengthwise and place with the cut surface in brown sugar. Press the piece of banana lightly into the sugar, then place in the pan with the sugar side down and caramelise for a few minutes. You can turn the banana once, but then you have to turn it out of the pan, because otherwise you get banana gossip.
Note the cooking time of the banana, a ripe banana is cooked very fast!
4. Cooking Video Porridge with caramelized Banana and crispy Basil
So that everything succeeds step by step you get in this Porridge-Kitchenstory the suitable video. The recipe is underneath and you will surely succeed well!
5. Recipe
In the recipe I have added a surprise ingredient, find out for yourself and please try it out. It just tastes stunningly delicious!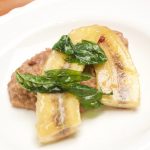 Porridge refined prepare with banana and crispy basil. Chef Kochwiki as kitchen story with cooking video by Thomas Sixt.
Servings

Prep Time

2

Persons

5

Minutes
Servings

Prep Time

2

Persons

5

Minutes
Porridge refined prepare with banana and crispy basil. Chef Kochwiki as kitchen story with cooking video by Thomas Sixt.

Servings

Prep Time

2

Persons

5

Minutes

Servings

Prep Time

2

Persons

5

Minutes
30

g

instant Porridge

or oatmeal

120

g

soy milk

oder milk or cream

Butter

optional

salt

optional

1

tsp.

vanilla sugar

optional

some

Nuremberg gingerbread

optional

some

brauner Zucker

1

pc

banana

1

tbsp.

corn oil

some

basil
Depending on the porridge, please follow the preparation instructions on the packaging. For oat flakes, 1 part oat flakes and four parts liquid have proven successful.

Bring the milk to the boil once, season to taste with a piece of butter, a little salt, vanilla sugar, cane sugar or honey. Add oat flakes or porridge product, stir and then steep at moderate temperature for approx. 10 minutes and allow to swell. I always do this at the lowest setting or push the pot next to the hob.

Optional: After half the cooking time, fold the honey gingerbread into the porridge and cut into small pieces.

Peel the banana, then cut it in half lengthwise and press the cut surface into the cane sugar.

Sauté the sugared banana sides in a pan with a little oil and caramelise. Be careful, the pan should not be too hot, otherwise the sugar burns and the banana is black!

Turn the fried banana briefly and cook to your personal taste. I'll just leave the caramelized banana in the pan for a moment. So the banana still has a slight bite!

Fry the basil in some oil until crispy, arrange the porridge, add the bananas and serve garnished with the slightly salted basil leaf. Enjoy it!
6. Calories (kcal.) Oat porridge with banana and basil
Nutrition Facts
Porridge with caramelised Banana and crunchy Basil
Amount Per Serving
Calories 314
Calories from Fat 117
% Daily Value*
Total Fat 13g 20%
Cholesterol 17mg 6%
Sodium 272mg 11%
Potassium 356mg 10%
Total Carbohydrates 47g 16%
Protein 6g 12%
* Percent Daily Values are based on a 2000 calorie diet.
OTHER LANGUAGES:
German