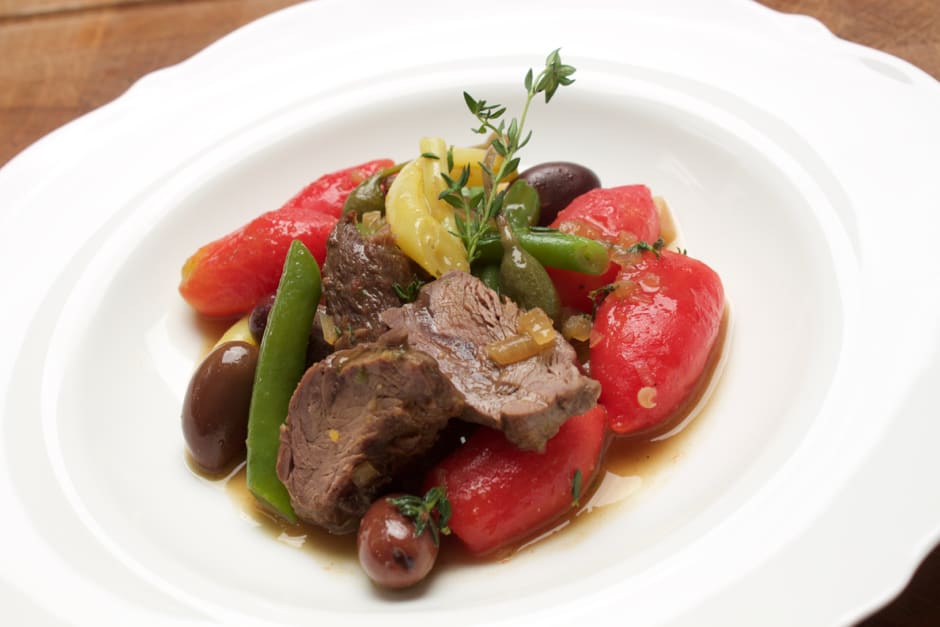 Text
Weiteres Bild
120

g

beans

200

ml

vegetable stock

300

g

deer ragout

1

onion

40

g

Butter

1

twig of

thyme

fresh

a little

garlic

5

capers

5

olives

5

cherry tomatoes

salt

pepper
Clean the beans by cutting the edges of and slicing them into pieces.
Steam them in a peperita-pot with a little of the stock.
Brown the meat in a peperita-pan without oil, then add the diced onions and the stock and let it steam with the  cover closed.
After app. 10 minutes you can add the picked thyme as well as the garlic. If it is needed you can add more stock. Let it cook for app. 15 to 20 minutes at constant temperature.
Now add  capers, olives, pealed cherry tomatoes, beans, thyme and the butter and let it cook for app. 5 minutes.  After that season with salt and pepper and serve the meal.
Depending from what meat was used the process of steaming can last longer. Steam the meat at constant temperature and add more stock if needed.