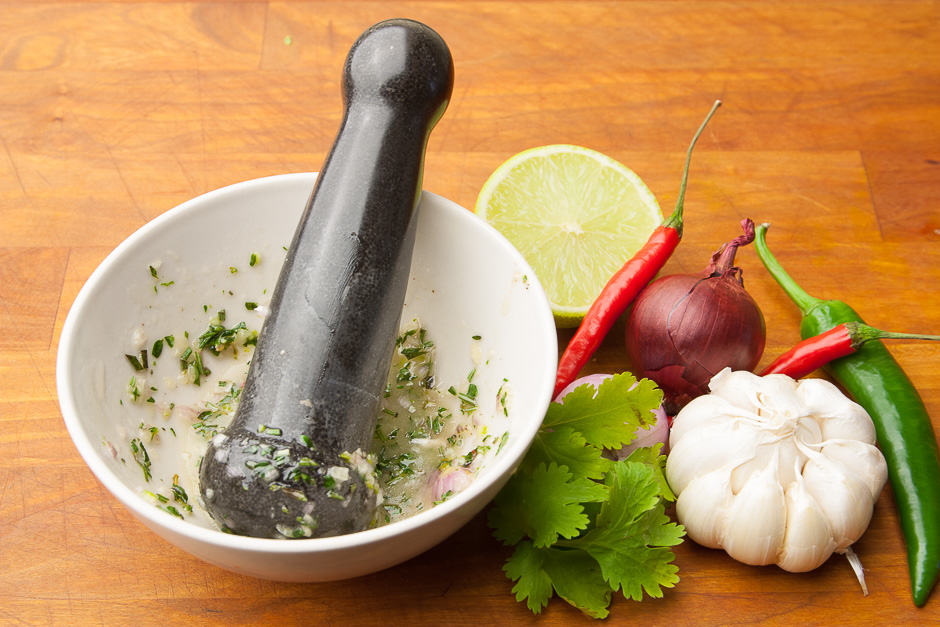 OTHER LANGUAGES:
German
You will like my meat Grill Marinades recipe 🙂 Marinades for grilling are not only in demand in summer, marinated meat can be prepared wonderfully in the pan or in the oven!
Marinating gives the meat taste: by marinating it in herbs, flavouring it with garlic, spices and oil, the meat gains flavour and remains tender and juicy during preparation.
In this article I have clearly summarized four marinades, good success!
1. Simple Grill Marinades and what should be considered when Marinating?
The grill marinades presented below are kept absolutely simple with 4-7 ingredients and are quickly prepared. The marinades are suitable for meat: pork, lamb and beef and for poultry: turkey and chicken.
1.1 Professional Chef Tips for Marinating:
Before marinating, wash the meat and dab dry with kitchen paper.
Do not salt the marinade, salt extracts water from the meat and dries it.
Cover the meat completely with marinade and marinate for 1-3 hours for a maximum of 2 days.
If the meat is marinated for more than an hour, please always place it in the refrigerator covered.
Frozen bags are ideal for marinating, you can massage the marinade with your hands more strongly on the meat.
Remove marinated meat from the fridge 40 minutes before preparation, the meat should be at room temperature, so it becomes tender and juicy.
Notice my tip under point 7. Maybe you will try it out.
2. Marinade for Beef
Beef steaks and fillet of beef, short roast pieces are the right meat pieces to marinate for grilling. Whether rump steak, porterhouse steak or hip steak, the steaks should be well hung, please ask the butcher, a ripening time of 3-4 weeks has proven itself. Put the meat 1-2 days before grilling in the desired marinade in the recipe at the end of the page you will find the optimal marinades for beef: I recommend for beef the mustard marinade, the herb marinade and the barbecue marinade with paprika and honey. For veal I only use the herb marinade and the lime marinade.
As a practical addition I add my table for the Steak-Gargrade:
| Gargrad Bezeichnung | Kerntemperatur |
| --- | --- |
| Rare | 45-49°C |
| Medium Rare | 50-54°C |
| Medium | 55-59°C |
| Medium well | 60-72°C |
| Well done | 73-85°C |
3. Marinade for Lamb and Lamb Meat
Lamb generally goes well with garlic, olive oil and herbs such as rosemary, thyme, marjoram and lemon peel. Lamb meat like lamb steaks. I marinate the saddle of lamb and the fillet of lamb with the herb marinade.
4. Grill Marinade for Pork Meat
The lime marinade, the herb marinade and the barbecue marinade with paprika and honey are particularly suitable for pork meat such as chops, steaks of pork neck or pork neck, for pork fillet or the popular spare ribs. Pork should be as fresh as possible, storage and maturing is not necessary for pork. I personally put pork in marinade at most one day before grilling.
5. Grill Marinade for Poultry
For poultry such as chicken breast, chicken legs, chicken wings and turkey steaks, lime marinade, herb marinade and barbecue marinade with paprika and honey are best. Always use poultry meat absolutely fresh and do not leave it outdoors unchilled for too long!
6. Recipe Meat Marinades
Below is my recipe for 4 grill marinades, clearly summarized.   If you have any questions, please use the comment function.

Grill marinades for all types of meat clearly summarized.
Servings
for each
approx. 600 g meat
Servings

for each

approx. 600 g meat
1

pc

garlic

finely diced

2

pc

shallots

finely diced

5

tbsp

Dijon-mustard

or medium-hot mustard

1

tbsp.

honey

1

tsp

white wine vinegar
1

bunch

mixed herbs

Thyme, rosemary, marjoram,

1

pc

garlic

finely diced

1/2

pc

Chili

1

pc

lemon

only abrasion, drizzle the juice on the fleshy before serving

150

ml

olive oil
3

tbsp.

soy sauce

2

tbsp

teriyaki sauce

1

tbsp

white wine vinegar

1

slice

ginger

finely sliced

1

pc

garlic

1

bunch

parsley

or coriander

1

pc

lime

150

ml

peanut oil
4

pc

garlic

finely diced

80

ml

Ketchup

6

tbsp

sunflower oil

6

tbsp

soy sauce

2

tbsp

honey

1/2

tsp

Cayenne pepper

1

tbsp

Paprika spice noble sweet
Servings:
approx. 600 g meat
Mix all prepared ingredients well and marinate the meat as desired with the mustard marinade.
Mix all ingredients, marinate meat as desired.
Mash all ingredients finely in a mortar and combine. Marinate the meat accordingly.
Mix all ingredients and marinate the meat to taste.
7. New trend: Only marinate while grilling
The meat takes on only limited or little flavour, so in recent times I have started to marinate the meat only when it is on the grill or in the pan. I first let the meat take a little bit of colour, then gradually coat it with the desired marinade. So I can better control the look and taste. Herbs burn quickly, so you can work finer with this method. Please try and comment below!
8. Other recipes for Grilling & Barbecue
Marinade for Chicken with Red Bull Cola
Barbecue Sauces - 5 cold Sauces to quickly and easy prepare
OTHER LANGUAGES:
German