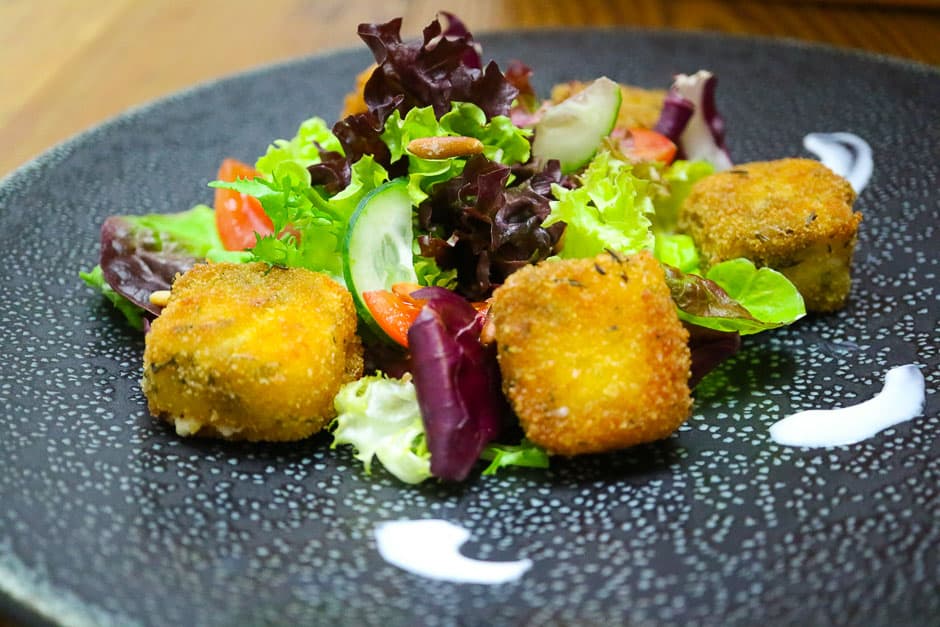 OTHER LANGUAGES:
German
My recipe Greek Salad I present to you in this contribution. With this salad almost everyone thinks of onions and olives, sheep cheese and cucumbers in a vinegar salad dressing.
I just thought about it and developed a new creation.
The wonderful salad is ideal for the guest kitchen or if you simply want to make your loved one a friend. In the article you will find lots of tips from the professional kitchen.
1. Greek Salad 2018 – the salad dressing
It is clear that a Greek salad must contain onions. Today the onions are shallots, I "packed" them into the salad dressing. In the "normal" Greek lettuce the onions usually come cut as strips relatively "loud"… To create a fine dressing, I have refined the dressing with garlic, truffle oil and cream fraiche, as a base balsamic vinegar and Greek olive oil.  Balsamico: Since almost everything good comes from the Greek culture, I assume that already the Romans copied from the Greeks. Surely Aristotle forgot one or two vinegar barrels in the cellar and so the first balsamic vinegar was surely made. If you disagree, please comment at the end of the recipe.
2.How to prepare Greek salad – what else is Important
I simply refused to put the wonderfully pickled olives in the salad. Such a pickled olive is a pearl of taste. Mixed into the salad it doesn't taste half as good as served extra. My guests were enchanted by the wonderful taste of Dimitri olives :-)!
3. Sheep Cheese or Goat Cheese for the Greek Salad?
The goat cheese is such a thing – not everyone likes it. So it's easy for me to organize the best sheep's cheese at the market and bread it lovingly in breadcrumbs in the kitchen at home. I prefer goat cheese with honey anyway, grilled for a short time and served on a farmer's bread with blossom honey….
Back to sheep's cheese: These baked sheep's cheese cubes are really delicious when you add thyme to the breadcrumbs. You can use fresh thyme or dried thyme. Why does the thyme fit into the greek salad? In ancient Greece and in the Roman Empire, thyme, which is also called quendel, immicinal herb, humility or garden thyme, was already used to treat respiratory diseases and gastrointestinal complaints. Well-known authors such as Theoprast, Dioskorides and the universally scholarly Roman Pliny described the different ways of use and preparation in various ancient writings. Thyme has only been cultivated in German-speaking countries since the 11th century, allegedly wandering monks of the Benedictine order brought the healthy herb from Italy. So, thyme fits perfectly into the Greek salad…and monks also do good…
4. Bread Sheep Cheese Cubes with Breadcrumbs and Thyme
Here are my step by step instructions with photos:
5. Recipe Greek Salad 2018
Greek salad with baked sheep's cheese, cucumber and tomatoes, served with a fine dressing, pine nuts and zaziki...
Servings

Prep Time

2

Persons

20

Minutes
Servings

Prep Time

2

Persons

20

Minutes
Greek salad with baked sheep's cheese, cucumber and tomatoes, served with a fine dressing, pine nuts and zaziki...

Servings

Prep Time

2

Persons

20

Minutes

Servings

Prep Time

2

Persons

20

Minutes
Salad dressing Greek salad 2018
1

pc

shalott

20

ml

balsamic vinegar

I use old, ripe balsamic vinegar.

30

ml

water

1

slice

garlic

3

pinches

salt

6

pinches

brown sugar

1

tbs

truffle oil

1

tbs

Créme Fraîche

70

ml

olive oil
Sheep cheese baked with thyme
200

g

Sheep cheese

Original from Greece

80

g

geröstete Semmelbrösel

1

tsp

thyme

dried or fresh

2-3

pc

eggs

salt

pepper

250

ml

Rapsöl
Yoghurt with garlic and lemon zaziki "light
1

cup

Joghurt

1

tbs

fresh lemon (juice)

2

slices

garlic

finely sliced

salt

pepper

Cayenne pepper
150

g

colorful leaf salads

8

slices

cucumber

1

pc

tomato

2

tsp

pine nuts

15

pc

olives

original from Dimitri
For the salad dressing, finely dice the shallot and prepare it. Mix the remaining dressing ingredients in a beaker with a hand blender. Stir in the shallots, prepare the dressing.

Cut the sheep's cheese into 1 cm cubes. Beat the eggs, season with salt and pepper and whisk. Prepare breadcrumbs and thyme. Place the cheese cubes first in the egg, then in the breadcrumbs. Repeat the process and bread the sheep's cheese cubes twice.

Mix all ingredients for the yoghurt with garlic and lemon Zaziki "light".

Pluck salad, wash and spin dry, cut tomato and cucumber into bite-sized pieces. Roast the pine nuts briefly in a pan with 1 teaspoon of oil.

Fry the breaded sheep's cheese cubes in hot rapeseed oil at 160-170°C until crispy, then place them on a kitchen paper and season with salt.

Marinate the leaf salads with the salad dressing and arrange neatly on the plates. Add baked sheep's cheese cubes, decorate plate with zaziki "light", salad with tomato, cucumber and serve sprinkled with pine nuts. Serve the olives extra.
See also Article:
How to Wash Salad and how to wash lamb´s salad
See also my Recipe for Gyros Pan with Tsatsiki 
6. Nutritional Values Greek Lettuce 2018
Nutrition Facts
Recipe Greek Salad
Amount Per Serving
Calories 997
Calories from Fat 666
% Daily Value*
Total Fat 74g 114%
Cholesterol 114mg 38%
Sodium 1982mg 83%
Potassium 468mg 13%
Total Carbohydrates 56g 19%
Protein 30g 60%
* Percent Daily Values are based on a 2000 calorie diet.
OTHER LANGUAGES:
German