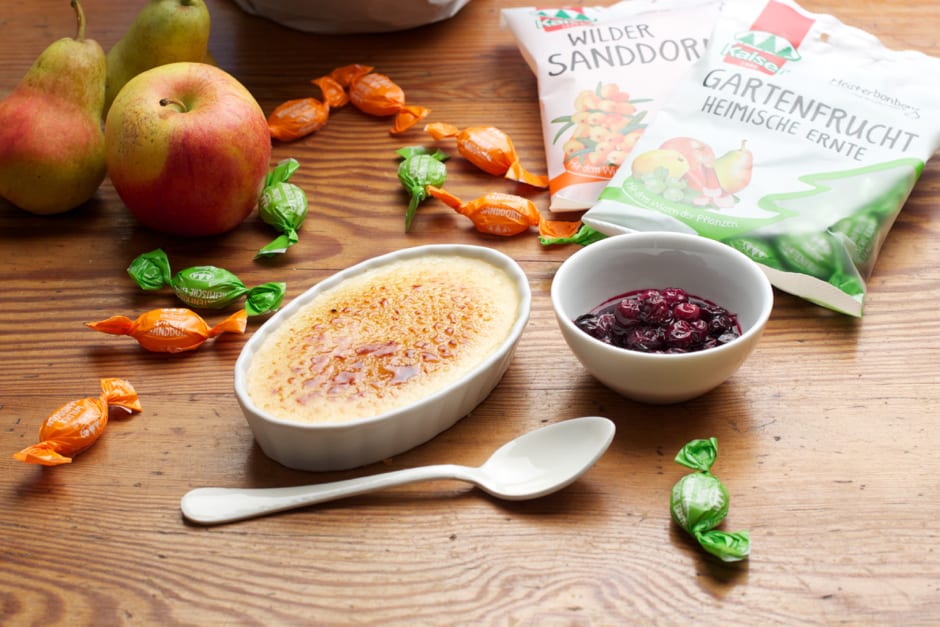 1

package

wild sea-buckthorn candies

150

ml

water

1

leave

Gelatine

200

g

vanilla pudding

100

g

Qimiq

150

g

cream

1

bunch

lemon balm
Prepare small moulds for the vanilla creme.
Crush the wild sea-buckthorn candies and boil them with 150ml water until the candies are completely melted. Keep the candy syrup lukewarm.
Soak the gelatine in cold water.
Stir together the room temperatured vanilla pudding and the Qimiq. Beat the cream just a little and fold in. Fill the moulds with the vanilla cream.
Put the vanilla cream into the fridge.
Then squeeze the soften gelatine and dissolve in the lukewarm candy syrup.
Pour the almost cold syrup over the vanilla cream (about 0,5cm thick)  and let it cool for 1-2 hours in the fridge.
Die Förmchen auf Teller mit Serviette stellen, Spitzen von der Zitronenmelisse abzupfen und die Vanille Creme dekorieren. Rasch servieren.
Place the moulds on plates with serviettes, remove  the tops of the lemon balm to decorate the vanilla cream, serve immediately.