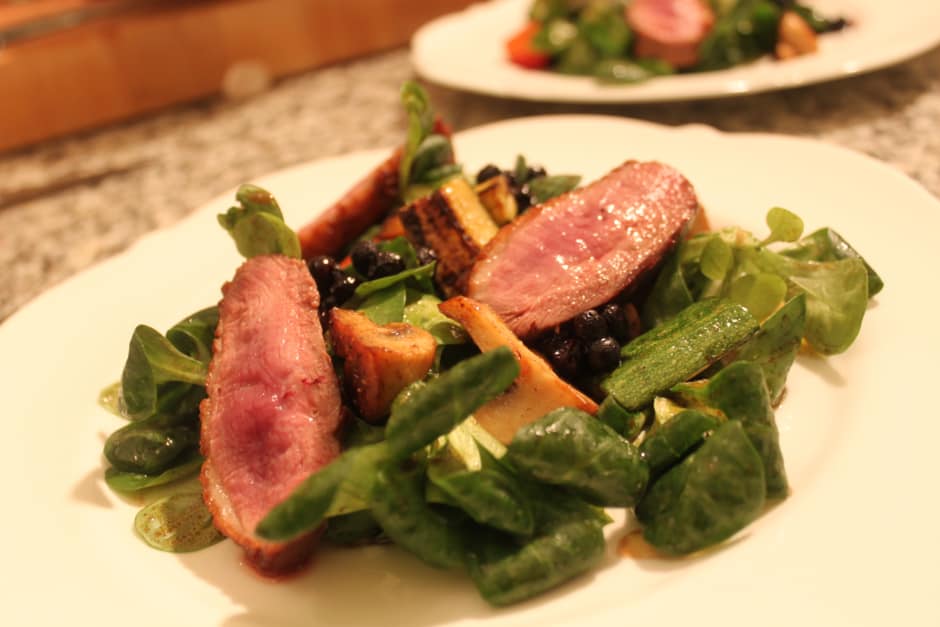 OTHER LANGUAGES:
German
With the recipe Duck Breast on Lamb's Lettuce I show you in this contribution the preparation of a light and healthy starter.
The wonderful recipe is easy and quick to prepare.
Although the preparation is not at all complex, the dish offers an impressive appearance in the optics and in the taste. 
The salad is given some extra ingredients to make it exciting. Roasted vegetables and caramelized blueberries are a great addition to the dish. The video duck breast on lamb's lettuce prepare everything step by step and accompany you in cooking yourself.
Good luck! In the article you will find further information, tips and tricks.
1. Duck Breast and Lamb's Lettuce as Starter
The advantage of this combination is obvious. The duck breast, here a barbarian duck breast, is still a luxury product and still affordable. For four persons you need two duck breasts. The cost is about 16-20 Euro. If you want to impress your guests and/or loved ones, please try the preparation.
2. Prepare Lamb's Lettuce
Lamb's lettuce needs careful preparation. Elsewhere in my cooking blog I show the lamb's lettuce washing in detail. If you are serious, do not take a shortcut, pluck the roots from the lamb's lettuce, wash the lettuce as shown in the instructions and do NOT spin the lettuce dry.
3. Lamb's Lettuce Dressing
My lamb's lettuce dressing consists of a combination of balsamic vinegar/sweet Bavarian mustard/salt/pepper and olive oil. As a Bavarian I appreciate our sweet mustard very much, the dressing to lamb's lettuce tastes excellent and supports its nutty note.
This lamb's lettuce dressing simply succeeds and tastes great!
4. Roast Duck Breast
I show the roasting of the duck breast in the video and additionally you can watch the article roast duck breast step by step with picture. A taste hint remains at this point: I fry the vegetables in the duck fat, so it gets a special taste and harmonizes even better with the remaining ingredients.
5. Sweet Kick to the Duck Breast
I like it sweet to the duck. As a change to the cranberries there are caramelized blueberries this time.
6. Duck Breast with Lamb's Lettuce as Starter Cooking Videos
7. My Recipe Duck Breast with Lamb's Lettuce
Recipe starter with barbarian duck breast and lamb's lettuce by Thomas Sixt.
Servings

Prep Time

2

Persons

10

Minutes
Servings

Prep Time

2

Persons

10

Minutes
Recipe starter with barbarian duck breast and lamb's lettuce by Thomas Sixt.

Servings

Prep Time

2

Persons

10

Minutes

Servings

Prep Time

2

Persons

10

Minutes
1

pc

barbarian duck breast

sone

fresh thyme

1

pc

clove of garlic

some

brown sugar

100

g

blueberries

50

ml

water

1

tsp

cinnamon

100

g

Zucchini

60

g

mushrooms

120

g

Lamb's lettuce (Rapunzel)

5

pc

cocktail tomatoes

1

tbs

mustard sweet

20

ml

Balsamico

some

Chili

pinch

salt

some

pepper

5

tbs

oliv oil
Wash and dry the duck breast, cut the skin thinly in a diamond shape.

Season the duck breast with salt and pepper on both sides, then place in the pan with the skin side down. Add some thyme (twigs) and garlic to flavour and fry.

Caramelise the cane sugar, add the berries and a little water, remove from the heat and put aside seasoned with cinnamon.

Cut washed vegetables and fry zucchini and mushrooms with some duck fat.

Turn the duck breast over and continue cooking. Wash and dry the lamb's lettuce and add the halved cocktail tomatoes to the remaining vegetables in the pan.

Mix the sugar with mustard, salt, pepper, some chilli and balsamic vinegar, then add the olive oil and prepare a good salad dressing. Marinate lamb's lettuce and serve.

Add the vegetables, carve the duck into slices and add to the salad. Add blueberries and serve.
8. Prepare Duck Breast in the Oven
Another variation of the duck breast preparation takes place in the oven. Prepare the duck breast, season, fry on both sides and then finish in the oven at approx. 200°C hot air. A similar recipe, however a duck as main course, I show in the article duck breast from the oven.
9. Calories (kcal) Duck Breast on Lamb's Lettuce with Vegetables and Blueberries
Nutrition Facts
Duck Breast on Lamb's Lettuce with Roasted Vegetables and Caramelized Blueberries
Amount Per Serving
Calories 597
Calories from Fat 378
% Daily Value*
Total Fat 42g 65%
Cholesterol 154mg 51%
Sodium 775mg 32%
Potassium 491mg 14%
Total Carbohydrates 31g 10%
Protein 25g 50%
* Percent Daily Values are based on a 2000 calorie diet.
OTHER LANGUAGES:
German