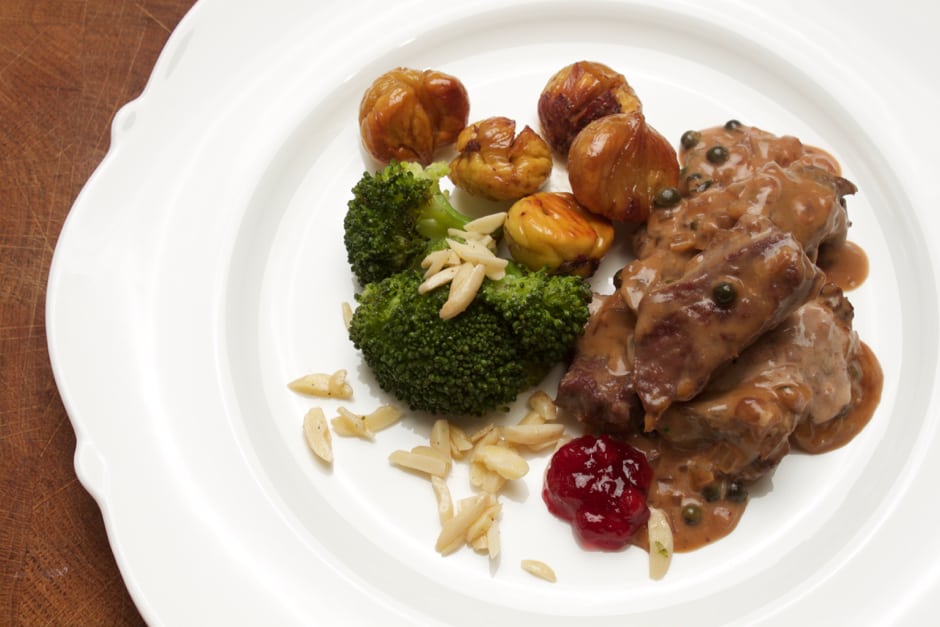 Today I will show you a particularly tasty version dish. I will serve the venison in a pepper cream sauce, with broccoli and chestnuts. This recipe is really wonderful especially for the cold season. And in addition it is pretty easy to cook.
Delicious deer
Venison is a great alternative to our meat favorites such as chicken, pork or beef. It has a great intense flavor and has also a low fat content compared to some of the other types of meat.
Although venison is such a great type of meat, we don't prepare it that often. With this recipe I want to change your mind a litte!
Cook more venison dishes, they are tasty and will bring more variety to the kitchen!
What meat shall I use?
I take venison goulash and first cut it into small pieces. Then I put the pieces into a preheated pan (the pan is ready when water "dances" when you pour it in) and press them down so that a crust forms. This step is very important so I can turn the meat pieces easily later. I wait for a few minutes and cook the venison with a lid. Then I try to turn the pieces. If that isn't easy, just turn up the heat a little. After turning turn off the heat, let everything cook with a lid for a few more minutes. The searing allows roasted aromas and flavors to evolve. And they will make our pepper cream sauce delicious.
How to make the best pepper cream sauce
Our sauce is tasty and easy to cook. Just cut an onion into pieces and add to the searing meat together with the green pepper corns. Then I deglaze everything with the gravy. I already prepared my gravy, you can find a good gravy recipe here.
If you don't want to spend time making gravy, you can also use the ready-made kind (you don't have to tell your guests that it isn't made  from scratch) 🙂
You can make the gravy from scratch, or if you are in a hurry, take the jar!
When the onions have a nice brown color, add the gravy and the red wine. Then pour in the soy cream and bring the sauce to a boil. I take soy cream in my recipe but you also can use normal cream.
Then it is time to taste the sauce. Season it to taste with salt and pepper.
Great side dishes for our venison
The venison goulash and the pepper cream sauce are already really tasty but without a side dish, they seem to be alone. In general you can cook any side dish that you think will suit.
I prefer healthy broccoli and some buttery chestnuts. You heat both with some vegetable stock in separate pots. You wait until the broccoli is soft, then take it out and roast some almonds with some butter in the same pot. Then add the broccoli to the almonds butter mixture. Mhmm … that smells great.
Add also some butter to the chestnuts for a better taste.
Super easy venison dish
This dish is amazing in taste and also easy to cook. Nevertheless, it is a special recipe which needs a little time for cooking but it is really worth it!
You can find more cooking tips in my video!
Smilar recipes on other websites:
In Harriets recipe collection you can find many great venison dishes.
On zwergenprinzessin.com you will find a wild pheasant in pepper cream sauce. More here.
On scout.com a delicious venison steak with pepper cream sauce is shown.
Picture of the ingredients venison in pepper cream sauce:
Cooking Video for venison in pepper cream sauce
Recipe venison in pepper cream sauce
20

pieces of

fresh chestnuts

100

ml

vege

120

g

Broccoli

fresh

400

g

venison goulash

1

onion

1

tbsp

peppercorns

green, heaped

60

g

Butter

200

ml

gravy

50

ml

red wine

2

tbsp

almonds slivers

cream

salt

pepper

black, grounded
Cut a cross shape into the chestnuts, put them on a backing tray and let them cook in the preheated oven at 180 degrees for app. 25 minutes. Place a steel bowl with water underneath the tray to create steam.
After the chestnuts are cooked, cover them with a moist towel. After a couple of minutes you can peel them and put them into a pot. Add the vegetable stock as well as butter and slowly heat it up.
Split the broccoli into pieces and let it steam with a little water in a preperita-pot. After that place them on the lid ready for further steps.
Brown the venison meat from both sides, without oil, by using a preperita-pan. Add the onions, pepper corns and butter. Cover it with the lid and let it sweat for a short time. Extinguish it with the beef stock and the red wine. Let it steam with the closed lid at a low temperature (try the meat to see if it is tender).
Brown the almonds lightly, add butter and the prepared broccoli. Season it with salt and pepper.
Add cream to the venison and season it. Dress it on preheated plates. Add the broccoli and sprinkle it with the almonds. Season the chestnuts with salt and pepper, place it to the venison in pepper cream and serve it with cranberries.