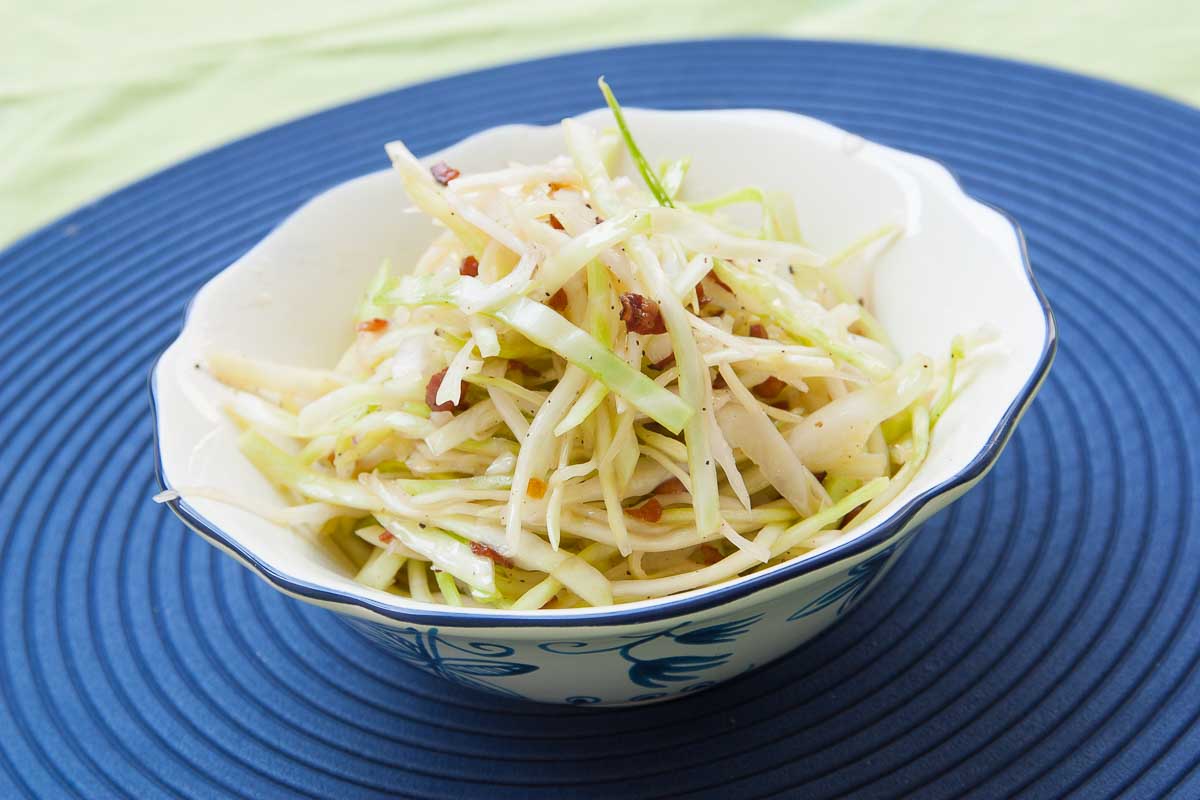 OTHER LANGUAGES:
German
Today I show you my recipe Bavarian Coleslaw. The cabbage salad with bacon or without bacon tastes good in summer with a barbecue, it goes very well with roast pork and generally as a side dish in mixed salads with various dishes.  
Besides the warm and cold cabbage salad I show you a fine cabbage salad dressing and briefly explain the specialities of Bavarian and Viennese cabbage salad.
You will find the video "Preparing Coleslaw" as a step-by-step guide. I am happy if this contribution is a help in your kitchen and wish you good luck. Please share!
1. Cabbage Salad Warm
The preparation of warm cabbage salad works in the same way as the preparation of cold cabbage salad. If you want to serve the lettuce warm, put the finished cabbage salad in a pan and heat it as desired. Another variant works as follows: Place the sliced cabbage in a bowl. Boil the caraway in plenty of water and pour over the cabbage. Strain off after approx. 10 minutes. You can also use a vegetable broth or a beef broth seasoned with caraway. Marinate the cabbage salad and refine with bacon.
2. Coleslaw Bavarian Style
I don't really like coleslaw when it's really cold. It reminds me of piled up, finished bucket cabbage salads in the cold store, which are put lovelessly on the plate. I like my cabbage salad lukewarm, i.e. freshly prepared and no longer put in the fridge.
3. Cabbage Salad with Bacon
Crispy fried bacon cubes and onion cubes belong in my cabbage salad. If you prefer it vegetarian or vegan, you can leave out the bacon!
4. Coleslaw Marinade
The marinade for cabbage salad consists of
vinegar
white wine vinegar
red wine vinegar or apple vinegar
salt, pepper, sugar and caraway
5. Info for Viennese Cabbage Salad
The Viennese cabbage salad is very often additionally prepared with beef broth. The sliced cabbage is poured over with the boiling broth. Tarragon mustard can also be added to the marinade.
6. Bavarian Cabbage Salad
The Bavarian cabbage salad comes from my homeland, my grandmother from Lower Bavaria has prepared the salad with diluted vinegar essence or with apple vinegar, no onions added, only omitted and crispy fried bacon cubes, salt, pepper, caraway and sugar.
7. Coleslaw Video
8. Recipe
Below you will find a description of the preparation and all the ingredients.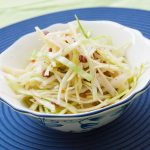 Bavarian Cabbage Salad - Coleslaw, Recipe with cooking video from German Chef Thomas Sixt
Servings

Prep Time

4

Portions

15

Minutes
Servings

Prep Time

4

Portions

15

Minutes
Bavarian Cabbage Salad - Coleslaw, Recipe with cooking video from German Chef Thomas Sixt

Servings

Prep Time

4

Portions

15

Minutes

Servings

Prep Time

4

Portions

15

Minutes
100

g

bacon cubes

1

pc

onion

optional otherwise 150 g more potatoes

500

g

white cabbage

fine sliced

1

tsp

salt

4-5

pinches

pepper

1

tsp.

caraway - cumin

1

tsp.

brown cane sugar

1

tsp

mustard

sweet mustard or mustard "mittelscharf from Develey Munich

4

tbsp.

white wine vinegar

50

ml

sunflower oil
Brown the bacon and onion cubes in a pan. The onions are optional, you can also fry the bacon cubes crispy first and sweat the onions only briefly.

Mix the finely chopped white cabbage with salt, pepper, cumin, sugar, vinegar and oil and crush the cabbage with your hands to make the cabbage salad soft. The second variation is to crush the cabbage seasoned with salt and caraway seeds, mix the remaining ingredients to a marinade with mustard and add to the cabbage.

Add bacon and onions to the cabbage salad, season with salt and pepper before serving.
9. Calories Cabbage Salad, the Nutritional Values
Nutrition Facts
Bavarian Cabbage Salad - Coleslaw Recipe
Amount Per Serving
Calories 295
Calories from Fat 207
% Daily Value*
Total Fat 23g 35%
Cholesterol 28mg 9%
Sodium 1101mg 46%
Potassium 499mg 14%
Total Carbohydrates 11g 4%
Protein 11g 22%
* Percent Daily Values are based on a 2000 calorie diet.
10. Further Recipe for Side Dishes Salads
OTHER LANGUAGES:
German