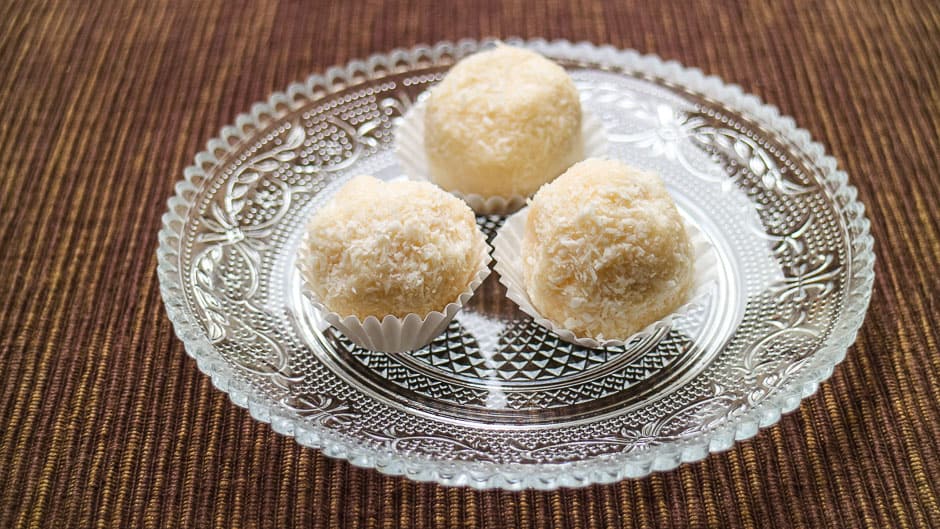 OTHER LANGUAGES:
German
Here I show you my Coconut Balls recipe. The wonderful, white coconut balls taste all year round and delight family members and guests.
Since there are already so many round ball recipes, I developed a new creation and added white chocolate for it. The chocolate gives the wonderballs a stunning aroma.
Today you can leave the Belgian chocolate box in the cupboard for a change. 🙂
What is the perfect occasion for the homemade coconut praline? Surprise your guests in the afternoon, or rich white balls as a mini dessert in the evening. With me, the homemade Raffaelo balls are already an Advent and Christmasevergreen and everyone who comes by wants to snack the little "snowballs".  
You can find the star variant at the end of the article. Under point 2 there are the tips for the vegan and a further variant without chocolate.
The oven stays cold today, please think of the praline cuffs next to the ingredients and let yourself be tempted to bake – without baking!
1. Making Coconut Balls yourself, the most important Tips
I love these simple chocolates because they are so easy to prepare. To make it 100% sure, here are a few tips to get you in the right mood:
Put the coconut fat already some hours before the preparation at room temperature ready. This applies to the "normal" coconut fat variants, known as Palmin in Germany and Ceres in Austria.
With organic coconut oil, you can reach for the glass for a short time, the coconut oil is usually soft and is usually in the kitchen cupboard at room temperature.
Please patiently grate the white chocolate finely. I like to do this with an electric kitchen appliance because it simply saves time.
Use a high stainless steel bowl to mix the ingredients. I always put it in a cold place for a short time or even freeze the bowl for 15 minutes. The cold bowl helps to ensure successful preparation!
For the typical taste I always add some rum. Please note: Since the rum is not heated, the alcohol is preserved! The pralines are therefore NOT suitable for children. Optionally you can prepare two variations of the mass or simply leave out the rum.
The mixing of the ingredients should go as fast as possible, so that an even coconut chocolate mass develops.
So far everything clear? You can always write me a comment at the end of this page, I am happy to help you with words and deeds!
2. Vegan Coconut Balls Variant
The thing with the variants is always such a thing… Leave these ingredients out, add another, who should know more about them?
I would like to prepare you a joy, therefore I write you here still two variants of the prescription to it, which succeed surely…
2.1 Vegane Coconut Balls with white and vegan Chocolate
Just get a white, vegan chocolate and use it instead of the standard chocolate. All the ingredients you find in the recipe below stay the same.
2.2 Coconut Balls without Chocolate
Attention now comes a MINI RECIPE:
Mix 200 g coconut flakes with 80 g coconut oil, 90 g grated almonds, 50 g agave syrup and juice + fine abrasion of an organic lemon and a pinch of salt. Mix the coconut mixture quickly and chill. Then portion with a mini ice-cream cutter, form round and roll the balls into 3-4 tablespoons of coconut flakes.
3. Store Coconut Balls
The coconut balls always go into my refrigerator. I like the balls best served cold.
Tip: Keep the coconut balls in portions and shapes in the refrigerator and roll them freshly in grated coconut shortly before serving.
If you use commercially available coconut fats such as Palmin or Ceres, the balls bring an additional COOL effect to the palate. This is similar to ice confectionery and I would like to explain it briefly because it is a nice example of enjoyment physics.
COOL effect as with ice confection increases the moment of enjoyment…
We know ice confection packed in colourful little hats… the confection is made with unhardened coconut fat and the fat melting point here is approx. 20-23°C. The feeling of coolness arises when the coconut fat melts in the mouth and the energy required for melting, i.e. heat, is withdrawn from the mouth cavity. If the temperature of the tongue surface falls below 24 degrees Celsius, we perceive this as cold.
4. Coconut Balls Recipe
Here we go. Quickly into the kitchen for baking without baking 🙂 wish you good luck!

White coconut chocolates similar to Raffaelo in the variants with white chocolate, with vegan chocolate and without chocolate simply and successfully prepare.
Servings

Prep Time

40

Pieces

30

Minutes
Servings

Prep Time

40

Pieces

30

Minutes
White coconut chocolates similar to Raffaelo in the variants with white chocolate, with vegan chocolate and without chocolate simply and successfully prepare.

Servings

Prep Time

40

Pieces

30

Minutes

Servings

Prep Time

40

Pieces

30

Minutes
Coconut Mass with Chocolate
250

g

white chocolate

grate finely, I use the food processor

3

tbs

starch

1

pinch

salt

5

tbsp

white rum

100

g

powdered sugar/ iced sugar

180

g

soft coconut fat

1-2

tbs

coconut flakes

I use it optionally for binding!
3-5

tbs

coconut flakes

to roll around with!

1

sachets

vanilla sugar
Refrigerate a stainless steel mixing bowl.

Grate the white chocolate finely with a food processor and pour into the cold bowl with the remaining ingredients.

Mix the ingredients quickly with the hand mixer.

Refrigerate the coconut mixture and after 15 minutes portion with a small ball cutter.

Mix vanilla sugar with coconut flakes and turn the balls nimbly in it. Place the coconut pralines in praline cuffs and serve quickly. Enjoy!
Raffaelo® is a registered trademark of the confectionery manufacturer Ferrero. This contribution is not an advertisement but should help you to make your own coconut chocolates.
5. Calories and Nutritional Values
Nutrition Facts
Coconut Balls
Amount Per Serving
Calories 518
Calories from Fat 396
% Daily Value*
Total Fat 44g 68%
Cholesterol 28mg 9%
Sodium 350mg 15%
Potassium 170mg 5%
Total Carbohydrates 32g 11%
Protein 4g 8%
* Percent Daily Values are based on a 2000 calorie diet.
6. Further Recommendations
Oat Biscuits
Vanilla Crescents
Coconut Macaroon
Angels Eyes
Shell Splinters
Rum Balls
Christmas Cookies
OTHER LANGUAGES:
German