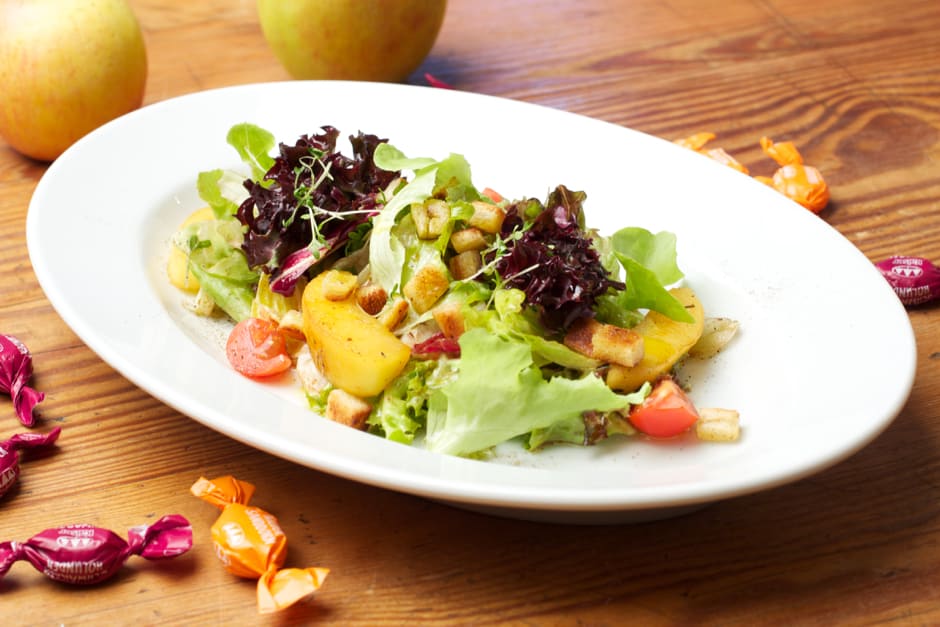 300

g

Green salad

mixed

4

cherry tomatoes

4

black elder candies

80

ml

water

25

ml

balsamic vinegar

1

garlic clove

1/2

teaspoon

salt

a dash of

pepper

100

ml

olive oil

4

wild sea-buckthorn candies

100

ml

water

4

slices

toast

1/2

teaspoon

thyme

70

g

Butter

2

apples

salt

pepper
Clean, wash and pluck the salad. Halve the cherry tomatoes, cut out the stem and quarter them. Put the tomato pieces on a plate and season them with salt and pepper.
Crush the black elder candies in the mortar and make a syrup by cooking with 80ml of water. Let it cool down.
Mix together the balsamic vinegar, salt, pepper and the elder candy syrup with a hand blender. Add some olive oil to finish the salad vinaigrette.
Also crush the wild sea-buckthorn candies and boil down to a  syrup with 100ml of water. Then let it cool down al little.
Roast the toast cubes together with the thyme and the butter in a pan until everything ist crispy. Season with salt and pepper an leave it in the pan.
Peel and quarter the apples, remove the core. Sear the apple pieces in a little butter from all sides, then glaze with the sea-buckthorn syrup. Now marinate the salad with the vinaigrette and serve it with tomatoes, apples and bread croutons.