OTHER LANGUAGES:
German
I love strawberry cake and have developed a recipe Strawberry Cake that can be implemented very quickly. I bake the strawberries with sprinkles in a casserole dish.
The cake tastes delicious and is very light and easy to prepare. The recipe can be supplemented at will. So you can also use an additional base of shortcrust pastry or puff pastry when you pre-bake it.
You can find the recipe Strawberry Cake at the end of the page. I wish you every success with my strawberry cake and would be happy if you share the article on Facebook.
1. Strawberry Cake simple
I find simple recipes for cakes exciting, this recipe for strawberry cake was created by chance. Besides some strawberries I had many sprinkles of a fruitcake left over. So I simply filled the two ingredients into a mould and baked them. I can tell you it really surprised me what a fine cake came out of it. The sprinkles get along very well with the strawberries and the sugar caramelises when baking. The preparation is extremely delicious and in the strawberry season the cake also comes as a dessert on my table. My cake is similar to a strawberry crumble, but I use more sprinkles for a better binding.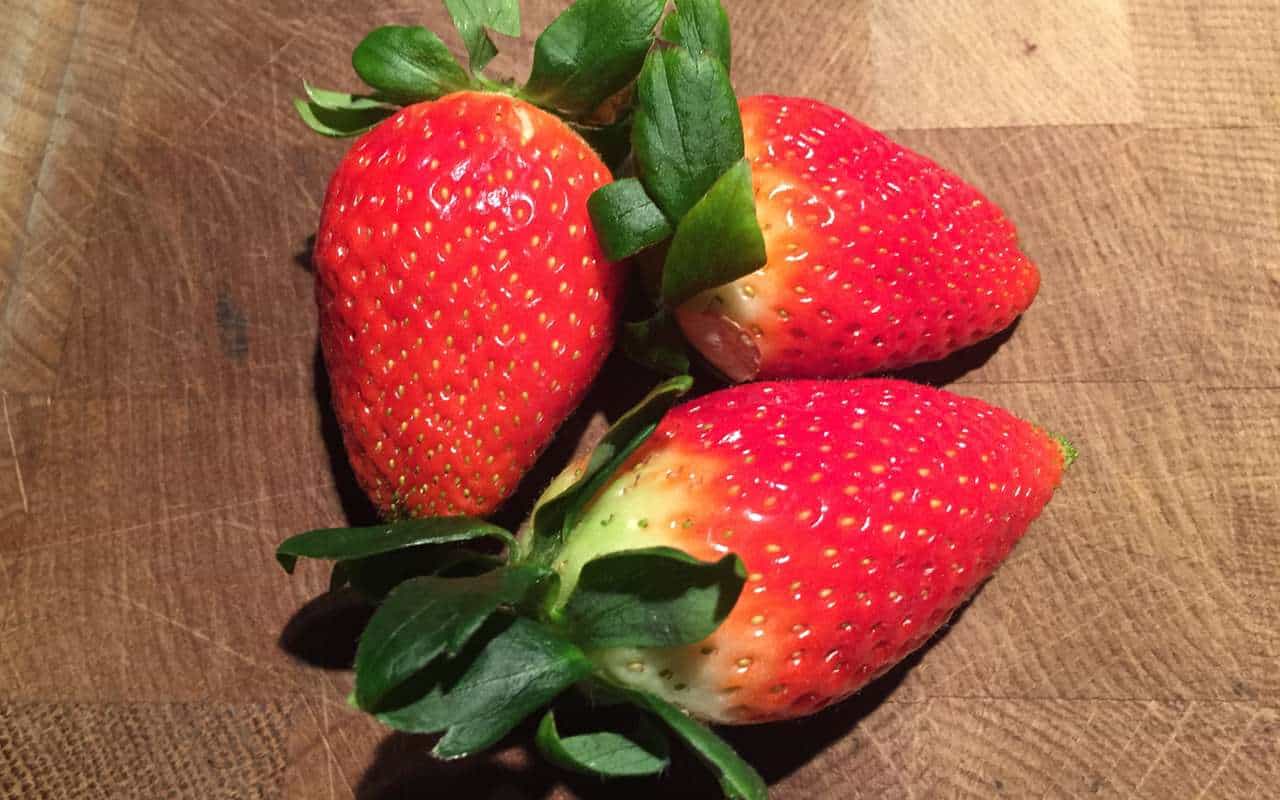 2. Strawberry Cake simple and fast
It should be simple and fast:  You need 250 g strawberries for 4 people and flour, icing sugar, vanilla sugar and butter for the sprinkles. Don't use any commercial icing sugar or icing sugar, but grind brown raw cane sugar yourself. You can finely crush the sugar in a mortar or crush it in a kitchen cutter. The Thermomix also performs excellent services here. The brown raw cane sugar is superior in taste to the white sugar. It tastes more malty and the caramel aroma is simply stunning in combination with the strawberries.
2.1 Crumble for Fruitcake
Sprinkles for fruit cakes generally consist of one part fat, one part sugar and two parts flour. First, cold fat and sugar are quickly mixed and then mixed with flour. The result is a crumbly consistency. Butter is ideal for crumbles and tastes better than margarine. You can also add lemon zest, cinnamon or cocoa to your crumble. This is not necessary for the strawberry cake.
3. Strawberry Cake from the Tray
You can bake my strawberry pie directly on the baking tray. Use a baking paper as base and use strawberries and sprinkles in equal proportions. This will give you a compact cake that is easy to portion.
4. Strawberry Cake with Vanilla Pudding
Strawberries and vanilla pudding are a classic and I like to serve my simple strawberry sprinkling cake with pudding. Sometimes I bake round puff pastry bases, spread them with pudding after cooling, put the strawberries on top and finalise with sprinkles. The cake is then put into the oven for about ten minutes at 230°C.  This fast strawberry tart tastes better to me than any fruitcake. I like to serve this berry miracle with tea or coffee.
5. Strawberry Cake Variants with and without Cake Bottom as Graphics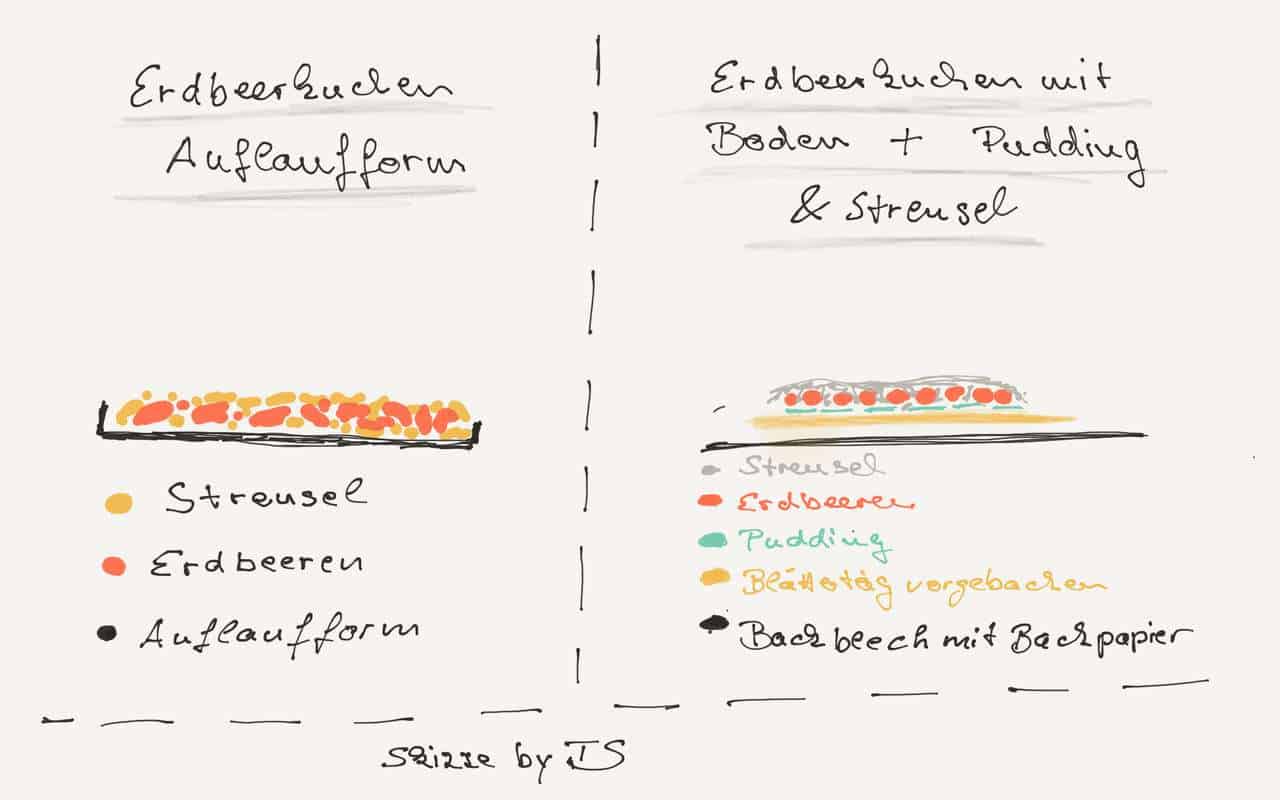 6. Strawberry Cake for Dessert
In the strawberry season I bake my strawberry cake in small souffle dishes and serve it with strawberry ice cream and  strawberry strudel. This composition would be ideal for the perfect dinner. The down-to-earth, warm cake with ice cream and crispy strudel is a successful dessert variation with strawberries.
7. Recipe Strawberry Cake
OTHER LANGUAGES:
German