In this post I show you my Steak au Gratin Recipe. A gratinated steak is a fine and tasty affair and I would be happy if you try it.
The steak gets an additional taste finish by baking with various ingredients. You can see how this goes step by step in the cooking video steak au gratin. 
Discover all professional chef tips for baked steaks 🙂
I wish you all the best!
1. Steak with Herb Crust
You can bake a beef fillet steak, a pork fillet steak, a saddle of lamb or even thick chops with a herb crust. The meat must first be put in the pan and fried on both sides. Your oven stage grill should be preheated at 250°C. When the steak has been fried on both sides for about 2 minutes (depending on the desired cooking degree and the thickness of the steaks!), place the meat on a baking tray and cover it conscientiously about half a centimetre thick with the prepared herb crust. My advice: The herb crust should be rather soft, then it can be spread better and more evenly on the meat.
A homemade veal jus, which can be refreshed and supplemented with tomato cubes, goes well with the above steak.
2. Herb Crust Recipe
For the steak herb crust you need 120 g soft butter, 40 g breadcrumbs, a teaspoon of thyme, a teaspoon of rosemary, finely grated garlic from a garlic clove, 1/2 teaspoon salt and 3 pinches of pepper to taste or according to my quantities. You can quickly mix the ingredients for the herb crust mixture with the hand mixer or knead them with your hands.
Fillet steak with herb crust, an excellent dish for guests!
3. Steak Pine Nut Crust Recipe
I have seen and tried many recipes, if you want pine nuts in your crust, add them to the herb crust in the above recipe. I like the herb crusts basically without egg, the breadcrumbs bind the herb crust sufficiently. The recipe for the pine nut crust: 120 g soft butter, 40 g breadcrumbs, to taste or according to my quantities: 80 g coarsely chopped pine nut, a teaspoon of finely chopped parsley, finely grated garlic from a clove of garlic, 1/2 teaspoon salt and 3 pinches of pepper.
Fillet of beef with pine nut crust, it tastes like summer and holidays!
Cooks call the herb crust or the mass for baking – gratinating mass
4. Steak Pistachio Crust Recipe
It's a classic for the saddle of lamb! You can prepare the mass for the pistachio crust with butter or olive oil, you need for it: 120 g soft butter or 120 g olive oil, 40-60 g breadcrumbs, according to taste or according to my quantities: 80 g coarsely chopped pistachios, finely grated garlic from a garlic clove, 1/2 teaspoon salt and 3 pinches of pepper.
Saddle of lamb with pistachio crust, this is an ideal combination for Easter!
5. Gluten-free Herbal Crust
For a gluten-free herb crust, use gluten-free breadcrumbs. You can use corn flour instead of flour to bind the herb crust. Coarse corn flour is rather unsuitable because it becomes very hard. Finely ground corn flour is better.
6. Steak au Gratin with Cheese
For me, this variant is only suitable for turkey steaks or pork steaks or chops. I have already read pork steak cutlet on various menus, it is then about a 1.5 cm thick cutlet steak.
Cheese to bake over steak – Gruyère and Raclette cheese are my first choice!
The most common types of cheese such as Emmental, Gouda or mountain cheese are suitable. The baked cheese steak with a raclette cheese and a Gruyère is very ingenious. The Swiss already know why they like to eat this cheese au gratin! I rather use hard cheeses, mozzarella is too watery for me and it also likes to run out, so I don't recommend it.
7. Steak with Feta Cheese, Olives and Tomatoes au Gratin
I always want to seduce you to try it out and simply give you good suggestions. Those who like Greek cuisine will be happy with the steak, baked with feta cheese, dried tomatoes and herbs. I like to serve it with tomatoes and raw onions, if you want to make it with the herbs, a wild garlic pesto or a basil pesto is enough in addition.
8. Pork Steak with fresh Tomatoes, Pine Nuts and Basil
Another variation to the steak is gratinated with cheese, fresh tomatoes, pine nuts and basil.
9. Steak Cooking Time
Depending on the size and thickness of the steak or piece of meat and the desired cooking degree, you must adjust the cooking time in the pan. A thin fillet of beef steak that is to be served "medium" is placed in the pan for a very short time and then cooked covered with herb crust, under the grill, to the desired cooking degree.
10. Steak au Gratin, a crazy Idea
As part of a cooperation, I developed the idea of cooking with sweets.  The result was a herb crust with bimenthol sweets and a jus with black elderberry sweets. You can find the recipe and the video below, it's a little crazy, but in the days of molecular cuisine I simply gave myself a crazy idea!
11. Video Steak with Crust au Gratin
12. Recipe Steak with Crust au Gratin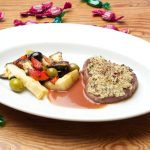 Print Recipe
Steak au Gratin with Herb Crust
Recipe for Steak au gratin, beef fillet with candy herb crust, chocolate elderberry sauce and Mediterranean vegetables. Recipe article Steaks gratinated by Thomas Sixt with video.
Ingredients
5

pc

black elderberry sweets

2

glass

veal stock

How to make veal stock, veal sauce, veal jus

25

g

dark chocolate

50

g

Butter

4

slices

fillet of beef

1

tbsp.

sunflower oil

4

tbsp.

breadcrumbs

you can also use corn flour (gluten-free)

1

tbsp.

rosemary

fresh or dried

1

tbsp.

common thyme

fresh or dried

4

tbsp.

olive oil

3

pc

Bimenthol candies

4

pinch

Pepper red

1

pc

Zucchini

4

pc

shallots

2

tbsp.

olive oil

1

glass

artichokes pickled in oil

20

pc

black and green olives

1

pinch

salt

1

pinch

black pepper
Instructions
Crush the black elderberry sweets in a mortar, boil down with the veal stock and the dark chocolate in a saucepan and reduce to jus. Mix the jus with cold butter and prepare for serving.

Brown the slices of fillet of beef on all sides over high heat with the sunflower oil, place on a cold baking tray and season with salt and pepper. Mix the breadcrumbs with rosemary, thyme, olive oil and bimenthol sweets finely chopped in a mortar and finish with salt, pepper and olive oil to a herb crust.

Preheat oven to 220 °C and grill level. Place the quartered and cleaned peppers, zucchini in 5 mm slices and peeled and octagonal shallots on a baking tray. Season the vegetables with salt and pepper and sprinkle with a little olive oil. Cook the vegetables in the oven for approx. 15 minutes, add the drained artichokes and olives and leave the tray on the lowest shelf in the oven.

Cover the beef fillet slices with the herb crust about 5 mm thick and bake under the grill for about 10 minutes until light brown. Arrange the vegetables, bring to the boil and add the sauce, add the fillet of beef to the vegetables and serve quickly.
Notes
13. Calories steak au gratin, the nutritional values at a glance
Nutrition Facts
Steak au Gratin with Herb Crust
Amount Per Serving
Calories 475
Calories from Fat 333
% Daily Value*
Fat 37g57%
Cholesterol 46mg15%
Sodium 947mg41%
Potassium 244mg7%
Carbohydrates 30g10%
Protein 10g20%
* Percent Daily Values are based on a 2000 calorie diet.