Today we have pumpkin from the oven. I will present you my recipe in the exciting variation with goat cheese, fresh figs and garlic.
Finally a different way of preparing pumpkin than the eternal soups. I am really happy with it. The best thing about it is: Pumpkin tastes really sensational when baked!
The baked pumpkin with goat cheese is perfect as a main course, side dish or starter.
This is great, the dish is easy to prepare and you have it on your plate in no time at all.
Let's start cooking now. I wish you a lot of fun and I am looking forward to your comments and remarks.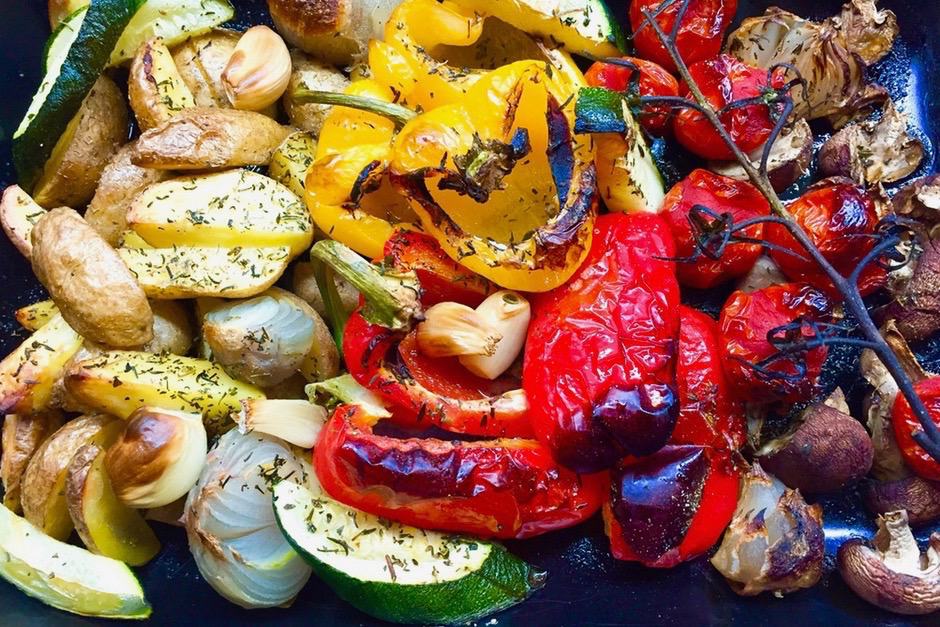 1. Which pumpkin may be put in the oven
I prefer to buy smaller pumpkins with stems and make sure that there are no soft spots or even pressure marks. When the pumpkin is ripe, it sounds slightly hollow when you knock on the skin and also has a wooden stem.
My choice for this recipe is the Hokkaido Pumpkin. I do not need to peel it. Other varieties like the butternut pumpkin or nutmeg pumpkin should be peeled.
Use small pumpkins for the oven preparation, they are more aromatic.

Pumpkin fan and cook Thomas Sixt
2. Tips for your preparation
Our pumpkin in the oven has company in three phases:
Phase 1: The accompaniments in the oven are onion, young garlic, rosemary and other spices.
Phase 2: Goat's cheese with a little brown sugar is separately browned with a Crème Brûlée distiller.
Phase 3: Fresh figs are quartered and added to the baked pumpkin and caramelised goat's cheese.
This is what makes the beautiful picture on my baking tray – step by step preparation.

Advises you the cook Thomas Sixt
3. What goes well with pumpkin from the oven?
You can eat this pumpkin from the oven as a vegetarian main course.
You can also add a fine rice or salmon to your plate, for example. Of course I have already worked out some great ideas for you:
The spices used in this recipe are: fresh rosemary, salt, black or white pepper, preferably fresh from the mill. The red dots on the baking tray are shinus fruits, often called red pepper.
4. Recipe pumpkin from the oven
Below is my delicious and quick recipe for pumpkin from the oven. Bon appetite!
Print Recipe
Pumpkin from the Oven
Pumpkin from the oven with goat cheese and fresh figs, plus many tips from chef Thomas Sixt. Baked pumpkin as a side dish or as a vegetarian main course.
Ingredients
1

pc

pumkin

I use the Hokkaido pumpkin

2

pc

red onion

1

pc

tuber of garlic

I take fresh young garlic

3

twigs

rosemary

2

rolls

goat cheese

goat's cream cheese in a roll

3

pc

fresh figs

5

pinches

salt, pepper

2

tbs

oliv oil

1

tbs

sugar

I take brown raw cane sugar

1/2

tsp

shinus fruits

red pepper
Instructions
Preheat oven hot air stage to 220° C.

Wash and dry the pumpkin. Then cut the pumpkin into 1 cm thick slices and remove the stalk and seeds – with a spoon.

Cut the pumpkin rings in half. This is the final portion size for the oven.

Peel and halve the onions and brush them with oil. Sprinkle a pinch of sugar on each half. Place the rosemary twigs at the ready.

Cut the garlic in half and brush with oil.

Cover a baking tray with baking paper.

Put the pumpkin, onion and garlic together with the rosemary on the baking tray. Brush with olive oil and season with salt and pepper. Spread red pepper.

Then place the lined baking tray in the preheated oven on the middle shelf and cook in the oven.

After about 30 minutes, cut the goat's cheese into thalers. Give the pieces a heat-resistant form, e.g. a pan. Sprinkle the goat cheese rounds with brown sugar. Caramelise the thalers with a crème brûlée distiller.

Remove pumpkin from the oven after about 35 minutes. Add caramelised goat's cheese and fresh figs and serve on a hot baking tray. Bon appetite!
5. Calories and nutritional values
Nutrition Facts
Pumpkin from the Oven
Amount Per Serving
Calories 260
Calories from Fat 72
% Daily Value*
Fat 8g12%
Sodium 214mg9%
Potassium 1318mg38%
Carbohydrates 44g15%
Protein 8g16%
* Percent Daily Values are based on a 2000 calorie diet.
6. Other side dish recipes