OTHER LANGUAGES:
German
For Radio Landeswelle Thüringen and Sina Peschke I pimped the Liver Sausage Bread recipe and refined it with glazed apples, spring onions and marjoram.
A good liver sausage bread is always good. For me, beautiful childhood memories are linked to the liver sausage bread. After all, my grandfather from Lower Bavaria always had a real farmer's liver sausage in his house.
He liked to make his grandson a hearty Bavarian snack with it. Grandpa Loibl also made the recipe for Bavarian Roast Pork. Look at the roast meat, it tastes really delicious!
Back to the bread with liver sausage: You can prepare it especially fine as shown below. Today I would add a small quail's egg and serve the liver sausage bread as a small intermediate course in a brunch menu to my guests and loved ones.
There is even a liver sausage video as 🙂 Step by step support. So nothing can go wrong anymore. Good luck!
1. Liver Sausage Bread is a Diet Breakfast
My dear friend Wolfgang, is Dr. med. and professor at the AKH in Vienna. He advises me on losing weight and I also develop a good cuisine and suitable dishes for weight reduction for his diet concept, which is actually nutrition management.
How does the liver sausage bread become a diet food? According to Professor Happak, bread with a high fibre content must be used. Pumpernickel with 8-12 % fibre content is used here. The liver sausage should also be coarse (at best) and you also need fruit and vegetables.
2. Glazed Apples with Liver Sausage Bread – Leberwurstbrot
In the morning I rarely like pickled vegetables, at least not pickled gherkins. So I put some apple pieces in the pan and glaze them lightly with butter and very little sugar. These apples taste great and are refined with raw or roasted onion slices from the spring onion. That's just hearty enough to gently wake you up.
3. Herbs with Liver Sausage Bread
With this culinary upgrade for the diet kitchen, the last kick in the form of herbs must not be missing. I used marjoram, chives in rolls, lovage, thyme or parsley cut into fine stripes fit just as well.
4. Cooking Video Pimp Your liver Sausage Bread
The following cooking video shows you step by step how to prepare the perfect liver sausage bread 🙂 !
5. Recipe Liver Sausage Bread
Following my recipe for delicious liver sausage bread… Good luck!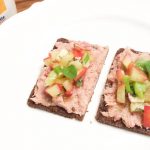 Print Recipe
Liver Sausage Bread
Diet liver sausage bread after Thomas Sixt and Dr. med. Wolfgang Happak. Pumpernickel and apple provide plenty of fibre and a balanced, fine breakfast.
Ingredients
1

pc

apple

2

pc

spring onion

25

g

Butter

4

slices

Pumpernickel

or other wholemeal bread with at least 9 % dietary fibre

180

g

farmer's liver sausage

it is a coarse liver sausage no fine

some

majoram

some

salt

some

black pepper
Instructions
Wash the apple, cut it into small pieces with the skin, cut the spring onion into diamonds, fry both in a pan with a little butter until al dente until colourless. The spring onion can also be sprinkled raw on the liver sausage bread at the end of the day, depending on the condition of the day.

Spread the slices of bread generously with the liver sausage.

Season the apple and onion mixture with a little salt and pepper and add the marjoram. Mix briefly, cook gently for 2 minutes and arrange on the liver sausage pumpernickel slices.

Tip: If you use dried marjoram, cook it for a few minutes with the apples. This allows the taste to unfold better.
Notes
6. Calories liver sausage bread with pumpernickel and glazed apples
Nutrition Facts
Liver Sausage Bread
Amount Per Serving
Calories 547
Calories from Fat 342
% Daily Value*
Fat 38g58%
Cholesterol 189mg63%
Sodium 1579mg69%
Potassium 430mg12%
Carbohydrates 36g12%
Protein 18g36%
* Percent Daily Values are based on a 2000 calorie diet.
OTHER LANGUAGES:
German