My Apricot Tart recipe shows the fruit tart preparation quickly and in star chef quality.
The Tarte recipe comes from my apprenticeship at Alfons Schuhbeck. Since then I have hardly changed the apricot tart recipe, because the small cakes simply taste delicious.
You can make your loved ones and your guests happy with this tart with coffee and cake or prepare a dessert for a menu. I wish you every success and look forward to your comments.
1. Prepare your own Apricot Tart
The basis for this tart is puff pastry. You can buy fresh or frozen puff pastry and process it directly. You also need fresh, sweet, ripe apricots or apricots, apricot jam, some rum, vanilla sugar and marzipan. If your apricot tart may become a dessert, I recommend fresh mint, icing sugar, pistachio chips and a good vanilla ice cream as an addition. I'll show you how to prepare the delicious tartes step by step below: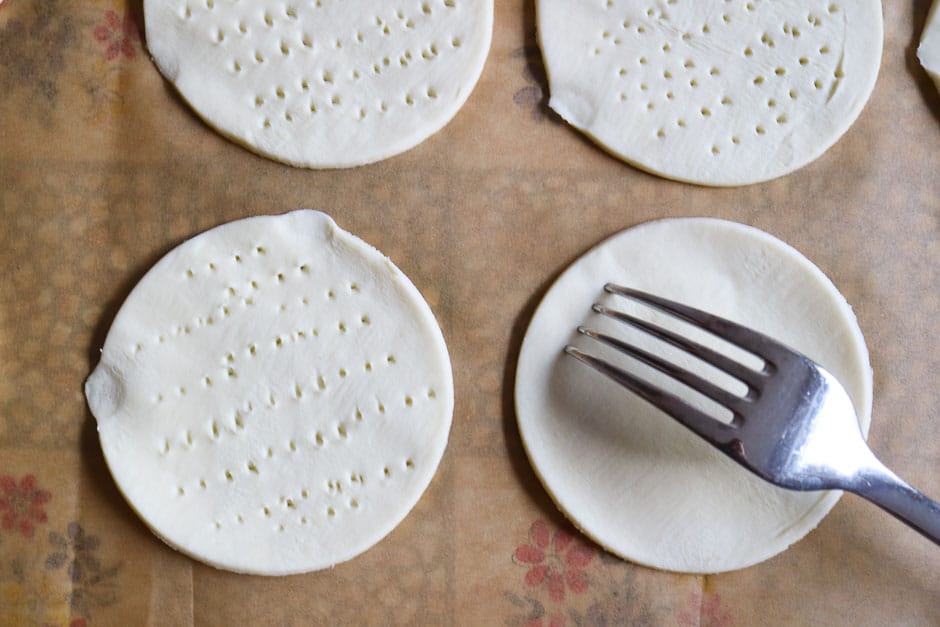 Cut out the puff pastry, place on baking paper and prick the top with a fork.
Cut marzipan and form it into balls, then thinly shape it.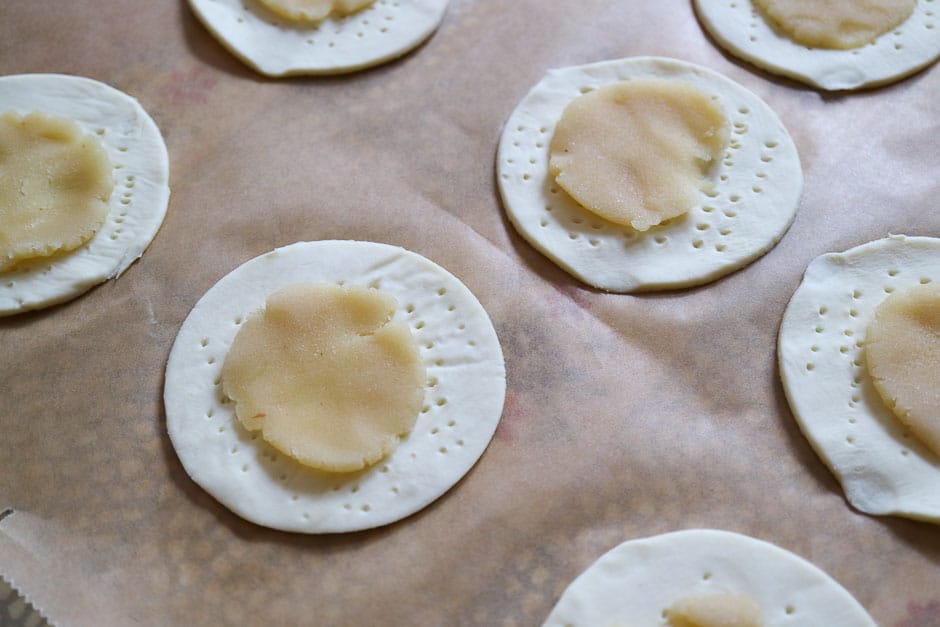 Place the thinly formed marzipan balls on the centre of the puff pastry.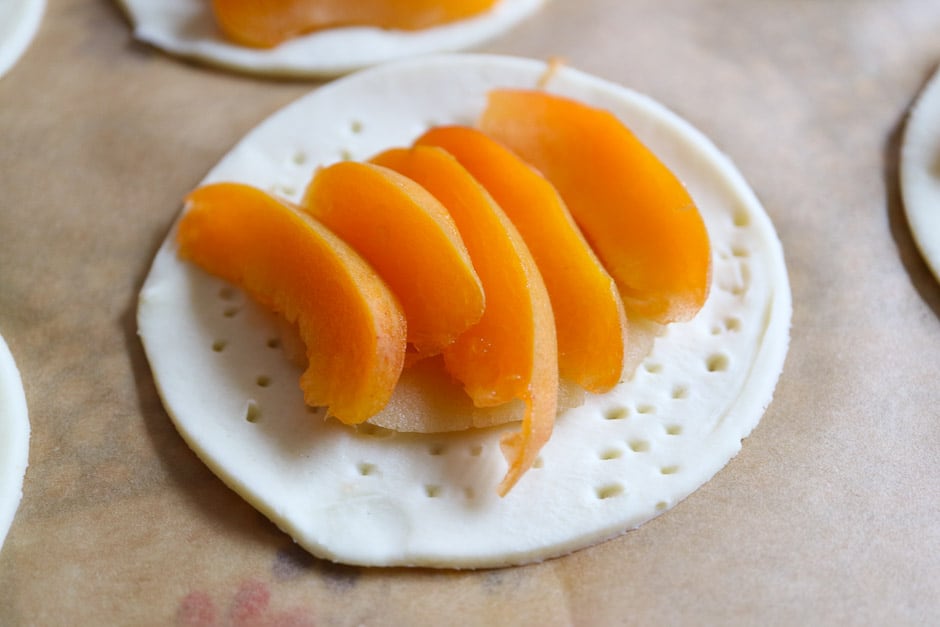 Cut the apricots into thin slices and place them on top of the marzipan.
Of course, all prepared tartes are covered with apricot slices!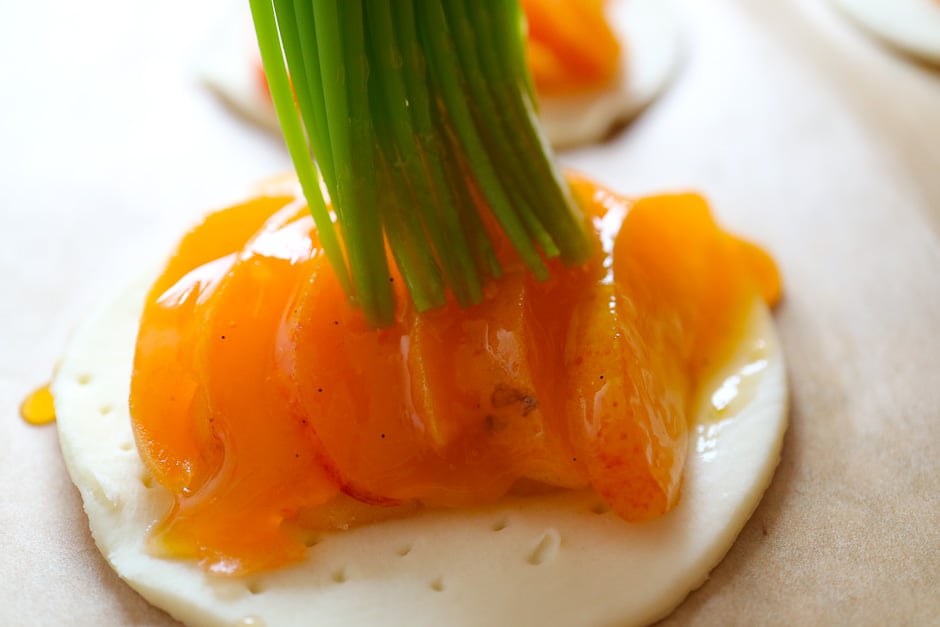 Spread the apricot tarts with freshly mixed rum, vanilla sugar and apricot jam.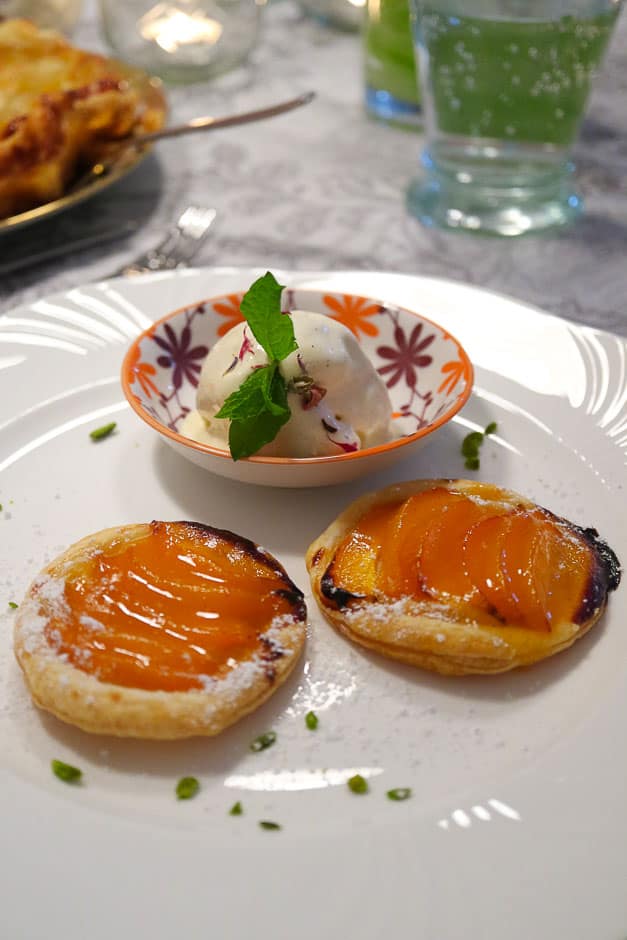 Bake the apricot tarts at 220°C hot air until crispy and arrange on plates.
Serve the apricot tarts as a dessert with vanilla ice cream, decorate with icing sugar, mint and pistachio chips.
2. Which Fruits also fit on the Tart?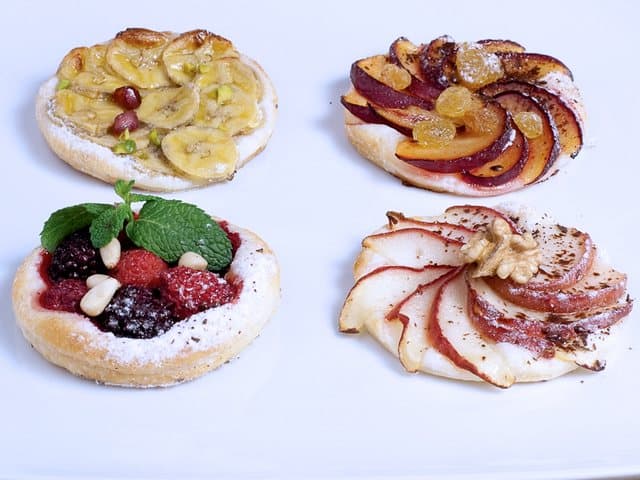 Depending on the season, you can cover your tartes with different fruits. Here banana, apple, berry fruits, plums, cherries fit,…
3. Recipes for Apricot Tart
You can find my safe recipe for apricot tart below. I wish you every success and look forward to your comments and questions. Please use the comment function at the bottom of this page to send them to me.
Print Recipe
Apricot Tart
Apricot tart recipe to bake yourself. Step by step photos of the preparation of an apricot tart. Super fast and simple recipe from star gastronomy with tips from the professional chef Thomas Sixt.
Ingredients
1

Piece

puff pastry

80

g

Marzipan

80

g

apricot

4

tsp.

Apricot Confiture

20

g

vanilla sugar

1

tbs.

Rum

4

balls

Vanilla Ice

1

tsp.

icing sugar

1

tsp.

pistacios

1/4

bunch

mint
Instructions
Preheat the oven to 220-240 degrees Celsius hot air. Roll out the puff pastry, next cut out round circles about 12 cm in diameter.

Line the puff pastry doughs on a baking tray with baking paper and prick them evenly on the top with a fork. Cut the marzipan paste into even pieces, form thin plates and place in the middle of the puff pastry.

Mix the rum with vanilla sugar and apricot jam and serve. I like to use this combination to glaze the apricot tarts, which gives them their beautiful lustre and makes the jam caramelise easily, which is a real taste sensation!

Cut the apricots in half and pit, then cut the flesh into thin slices. Cover the prepared tartes with marzipan with the apricot slices.

Carefully brush the topped apricot tarts with the prepared rum jam. Then bake the apricot tartes in a preheated oven at 220°C for 4-8 minutes until crispy.

Arrange the freshly baked apricot tarts on plates, decorate with icing sugar/dust sugar and pistachios, add one ice ball each with vanilla ice cream, decorate with mint and serve quickly.
Notes
4. Calories (kcal) Apricot Tart the nutritional Values in the Overview
Nutrition Facts
Apricot Tart
Amount Per Serving
Calories 748
Calories from Fat 333
% Daily Value*
Fat 37g57%
Cholesterol 22mg7%
Sodium 225mg10%
Potassium 288mg8%
Carbohydrates 90g30%
Protein 12g24%
* Percent Daily Values are based on a 2000 calorie diet.
5. Other Recipes
Apricot tart with shortcrust pastry
Apricot cake with sponge dough