My recipe Apple Strudel I show you in this post. The following lines will show you how to prepare the apple strudel step by step.
Optimally prepare strudel: You will get lots of tips and ideas about the strudel variations with strudel dough or puff pastry.
You will find answers to the following questions: "What is important when baking apple strudel?" and "What goes well with apple strudel".
At the end of the page I have added an apple strudel cooking video as a guide for your kitchen. I wish you all the best!
1. The apple: our favorite fruit for apple strudel
Aples are the stars on each cake – the apple. Hardly any other fruit is so popular when preparing cakes and desserts. We love apples for instance as apple pies, apple strudel, apple turnover, apple sauce or just pure as a healthy snack throughout the day.
"An apple a day keeps the doctor away" is a famous saying. Does apple strudel count, too?
2. Apple-granola strudel – the healthy version of the classic apple strudel
With this recipe we don't need to feel bad – you can definitely eat two pieces of it 🙂
A strudel is never really healthy but with the granola and the maple syrup, it is definitely healthier than the classic apple strudel.
Which granola should you use? In general you can buy any granola you find in the supermarket but I recommend the "princess muesli" from mymuesli.com. It tastes really delicious and offers a big advantage in contrast to other products: you can create the granola to your desired taste. In today's day and age, when many people suffer from food intolerance, mymueli.com makes it possible for everyone to buy their individual granola.
The princess muesli is particularly suitable for this apple strudel because the cereal with fruits such as strawberries and raspberries tastes delicious combined with apples.
3. What you should know about puff pastry
For my strudel I use one piece of ready-made puff pastry. In general I make every dough freshly but with puff pastry it is different. It is a very complex procedure to make puff pastry, that's why I prefer the frozen one. You can handle it easily and it also tastes very good.
Puff pastry likes it hot: 210°C is the best temperature!
The baking temperature is crucial for puff pastry. It likes it hot, therefore you should preheat the oven to 210°C. If it is not that hot, the butter may come out of the dough.
Here is a drawing of how you prepare the strudel with puff pastry: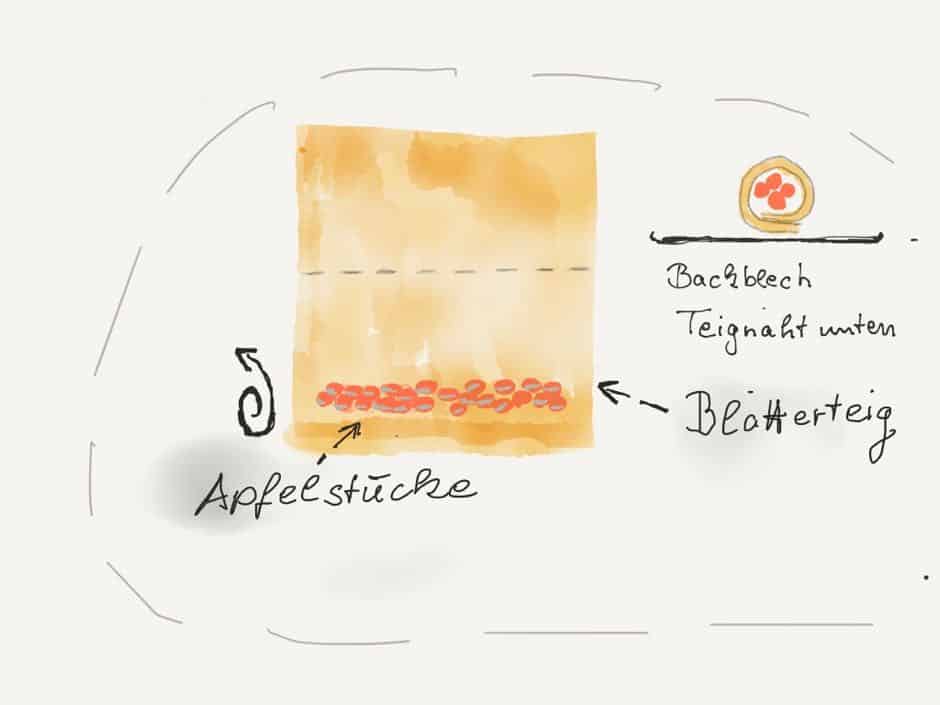 If you can't get puff pastry, you can also use strudel dough or filo dough. Here is a drawing of how you prepare the strudel with strudel dough: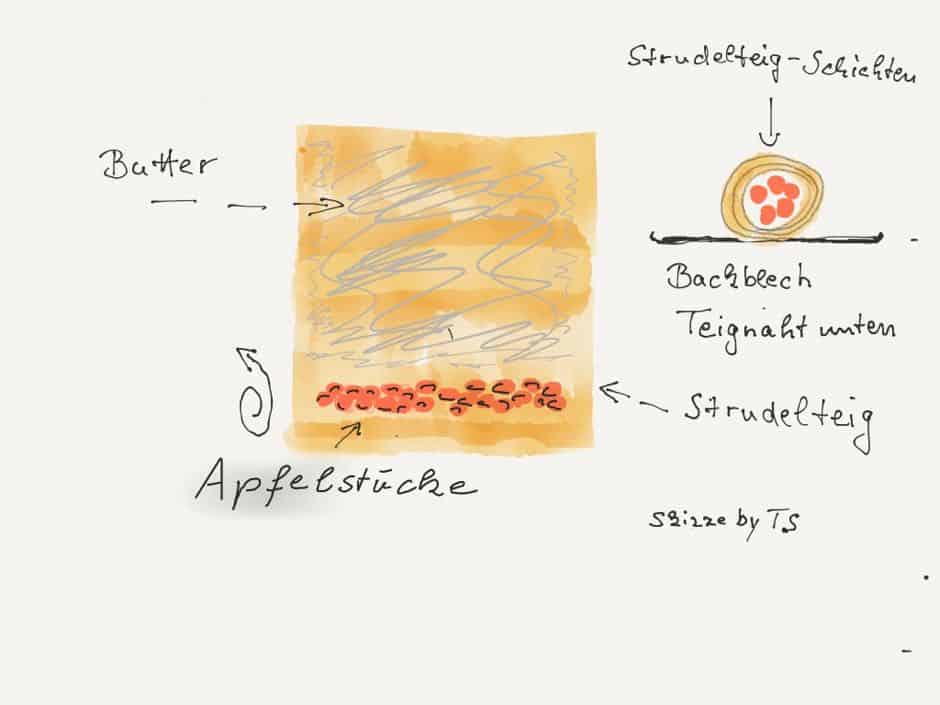 I like: Apple granola strudel: Sweet with maple syrup
I promised in the beginning that there is no white sugar in my apple strudel. My cooking advice to make the dish sweet without sugar: use maple syrup!
You can use maple syrup in many different ways and it is ideal for sweetening desserts. In combination with the apple granola mixture, it tastes fantastic!
4. Apple strudel and vanilla sauce, decoration tip for a star dessert
Searching for a special ingredient in your apple strudel? Then try my apple strudel with vanilla sauce, but even just with powdered sugar the strudel itself is a pure delight. But it gets even better if you add the creamy, rich vanilla sauce to it.
The simple trick is to use pre-made cream pudding from the supermarket, add some cream and pour it next to the strudel. If you are feeling fancy, you can also add some apricot jam to the vanilla sauce so it gets a hint of fruit.
5. Fresh Berries as an bonus to the apple-cereal strudel
To get a superb look, I decorate the vanilla sauce with berries. In my video I used a glass jam but you can also do it with fresh pureed berries.
For the heart shaped decoration, I put two dabs of jam into the vanilla sauce. Then I used a knife to create the hearts. Give it a try, maybe you will find ways to make different patterns. Use your imagination, the sky is the limit!
6. Cooking Video Apple granola strudel with apricots and vanilla sauce
7. Recipe for Apple Strudel
Find below my recipe for the delicious apple strudel. Enjoy it and enjoy this delicious variation. I wish you good success with the preparation and a good appetite.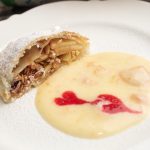 Print Recipe
Apple granola strudel with apricots and vanilla sauce
Recipe for apple strudel from the German chef Thomas Sixt. Step by step instructions with cooking video and many tips.
Ingredients
2

apples

1

tsp

gingerbread spice

heaped

140

g

granola

1

piece of

frozen puff pastry

or 2 pieces of strudel sheets

1

egg yolk

1

cup

vanilla pudding

2

tbsp

maple syrup

a dash of

cream

1

EL

apricot marmelade

some

fresh berries

or canned

a dash of

icing sugar
Instructions
Preheat the oven to 210°C  (circulating air). Peel the apples, quarter them and remove the core. Cut the apples into thin slices, put them in a bowl and set aside.

Add the gingerbread spice, as well as the maple syrup and the princess granola from mymüsli.com. Put the puff pastry or the strudel sheets on a tea towel and place the apple-granola mixture in one line on the bottom of the puff pastry from left to right.

Cover the edges with some of the beaten egg yolk, wrap the strudel and lay it with the seam down on a baking tray lined with baking parchment. Cover the studel with the egg yolk and bake in the preheated oven for approximately 12-15 minutes.

Note: Reduce the heat to 185°C after putting into the oven if using strudel sheets instead of puff pastry.

Let the strudel rest shortly. Stir together the vanilla pudding with the cream and fold in some apricot jam. Spread the vanilla sauce on a plate, and decorate with fresh berries. Add the sliced strudel, sprinkle with icing sugar and serve immediately.
8. Calories and nutritional value infos apple strudel
Nutrition Facts
Apple granola strudel with apricots and vanilla sauce
Amount Per Serving
Calories 688
Calories from Fat 270
% Daily Value*
Fat 30g46%
Cholesterol 165mg55%
Sodium 183mg8%
Potassium 108mg3%
Carbohydrates 95g32%
Protein 15g30%
* Percent Daily Values are based on a 2000 calorie diet.
9. More Ideas